Indigenous scholarships enhance our community
Thursday 28 April, 2016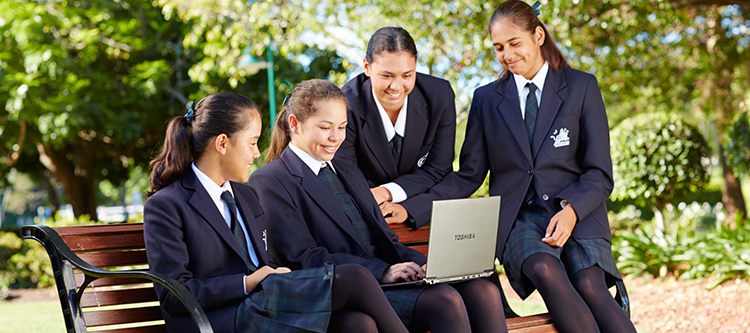 A recurrent theme within Pymble Ladies' College is our strong sense of community responsibility. Community is a pillar of our Towards 2020 vision and a foundational principle since Pymble began a century ago.
Since 2007, Pymble has offered scholarships to Indigenous students throughout Australia. Arising from a steering committee within College Council, with Evonne Goolagong Cawley as patron, the scholarships in performance and leadership open world-class study and career prospects for high-potential young Indigenous women. At the same time, they fulfill the strong desire for diversity long embedded in our College.
Pymble's first scholarship graduate – an Alice Springs student, Jessica Ah Cee – is now in her fourth year of medicine at Adelaide University. Another graduate, Biama Nona, is studying marketing and business on a scholarship at Bond University and serves as president of the Indigenous Student Association.
Of the nine Indigenous girls who have graduated from Pymble, only one has chosen not to continue with her tertiary studies. We currently have 18 scholarship students at Pymble, and last year we received 30 applications for just two places available in 2016.
Since 2010, we have partnered with the Australian Indigenous Foundation to offer the vast majority of our scholarships, with the Ex-Students Union funding uniforms. To date, girls receiving an Indigenous scholarship have represented Pymble – and Australia – in Belgium and New Zealand in leadership and sports. The girls compete for these opportunities on an equal footing to non-scholarship holders, and it is to their credit when they succeed.
Presently, five of our students come from Thursday Island. Acknowledging cultural challenges is important in successfully welcoming scholarship holders to our College. For one, there are more students enrolled at Pymble than there are residents on Thursday Island. The journey from there to Sydney is long, and family is 2750km away. The routine and structure can be very different. Our uniform is complex to master, and Sydney is bitterly cold to someone from the tropics.
Yet each girl brings a richness of tradition and understanding to our College. Walking alongside their Indigenous sisters, Pymble girls develop a stronger sense of the long history of our nation. We value their honesty, their authenticity, and their friendship. We appreciate sharing their cultural heritage and echo it, learning from Indigenous artists in residence such as Billy Missi and Brian Robinson.
Like our boarders from regional and remote Australia, our Indigenous scholarship holders ground us and open a view to a world we wouldn't otherwise know.
In return, I am proud of the opportunities Pymble is giving these girls. Through the exceptional standard of education at Pymble – and our wide co-curricular offerings – our Indigenous students have the ceiling lifted for them.
Our Indigenous scholarships offer more than life in the big city of Sydney. They offer an opportunity to explore new horizons and see what else in life is possible.