Less Snapchat, more talking
Thursday 1 February, 2018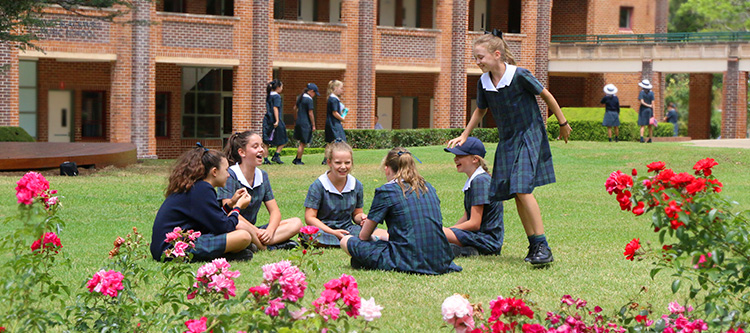 When was the last time you saw your teenager without her mobile phone? Come to think of it, when was the last time you went anywhere without yours? How are you reading this blog? By scrolling down your phone, perhaps?
Mobile phones are essential to our beings and to our days, whether they are spent at home, at work, when we're out and about and even when teenagers are at school. Somehow, they became non-negotiable parts of life and now it seems like we can't do anything other than go with the flow.
Not so at Pymble.
In 2018 we introduced a new rule for student mobile phone usage in the Middle and Upper Schools (Years 7 to 10). Between 8.15am and 3.15pm, mobile phones will remain in lockers. However, if it is essential for students to check a message or make a call, they can use their phones at their School office during recess and lunch. From time to time teachers may also require students to use their phones for a learning activity and, when this occurs, teachers will supervise the use and return of phones to the lockers.
In changing our approach to mobile phone usage for Middle and Upper School students, we have considered a range of issues while keeping the girls' education strongly at the centre. Our aim is for our girls to be more mindful about how relationships are nurtured through face-to-face interaction, to deepen their social skills through being present with others and the environment, and to experience the school day with less distraction to their brains and their bodies.
This change has been guided by parent and teacher feedback, our observations of the students' mobile phone usage and from discussions with the Student Representative Council. It was interesting to note that our Senior School students in Years 11 and 12 use their phones with much less intensity than Middle and Upper School girls at recess and lunch. Seniors are much more likely to be chatting face-to-face with others around them and phones are visibly less present. It is our hope that the new policy for mobile phone usage in Years 7 to 10 will create a similar effect in the Middle and Upper Schools.
At home, we encourage families to research their own habits around mobile phone use. Do you have a rule about no phones at the dinner table, or that phones don't belong in bedrooms and must be charged somewhere neutral, like in the kitchen?
Do parents have expectations about children responding to messages during the school day (and vice versa, when parents receive messages from their daughters)? There is a lot of value in discussing what it feels like to receive messages and calls when you are in the middle of a task, and what it feels like to be able to complete a task uninterrupted! Share your own observations around your personal phone usage and how you've noticed it impacts you – your sleep, posture and distractibility. What sorts of guidelines can your family introduce in 2018 to make mobile communication more sustainable?
Mobile phones are certainly ubiquitous in our lives, and handy to have, but we must balance usage in ways that favour our overall education, health and wellbeing. There are now many voices encouraging adults and young people alike to critique and re-evaluate the time and energy we give to our devices. This year, we look forward to encouraging our Middle and Upper School students to join the conversation and to raise their own voices in relation to what matters most in their lives.