One hundred years of educational excellence for girls
Monday 18 April, 2016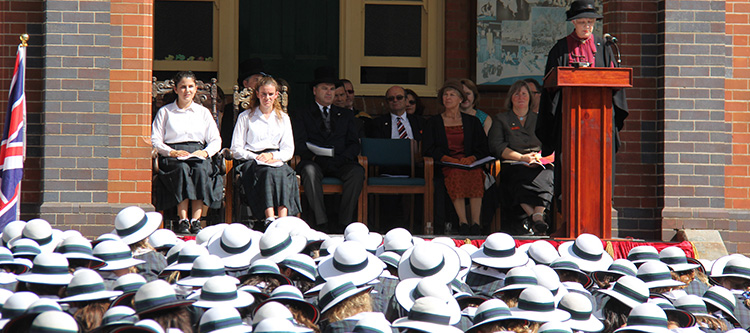 Principal's address delivered to Foundation Day Centenary Assembly on 8 February, 2016:
Close your eyes and imagine you're the first girl to ever enter Pymble's gates.
It's the 8th of February, 1916.
The sun is shining and there are dairy cows in the field, long grass and wildflowers and trees all around you, and just a few buildings ahead of you.
There is no real school uniform, but you've been told what would be appropriate. Serviceable.
So you're wearing a long blue skirt and a white blouse with boots and stockings, and, of course, your hat and gloves. It wouldn't be proper to be outside without these.
Your clothes are heavy and hot and most likely don't fit well. If you're an older girl, you're wearing a corset and petticoats under your uniform. You dare not slouch while you're standing here – if you don't stand up very straight, you won't be able to breathe.
Soft synthetic materials are still years away from being invented. So everything you're wearing is wool, cotton, silk or linen – and it's itchy.
Later this week, you'll have your first physical culture lesson, and you'll have to wear those hot, heavy, itchy clothes then, too. You'll be trying out for high jump in long skirts, boots and stockings. This is 1916 after all.
Chances are you arrived at Pymble by foot or, if you were lucky enough, by horse and buggy.
If you'd come from the country to board, you're probably feeling tired and disoriented after travelling alone on a rattling, dusty, smelly steam train, with just a tag around your neck and one suitcase in your hand.
You certainly haven't brought much with you. The rules said you should pack a tennis racquet, a serviette ring, a brush, two combs, a hymnal and a flannel dressing gown. You also knew you needed to dress for dinner every night, so you've brought a red velvet frock your mother had sewn.
You might be very young – just seven years old and living away from home for the first time, with a whole school year to go before you see your family again.
Or maybe you're an older day girl, who's lucky enough to have forward-thinking parents who believe you have the right to an education that is equal to boys'.
Whoever you are, you're starting something very new today. And it's a little bit scary, and a little bit exciting, too.
Here starts your education. Here starts history with you as the first Pymble girl.
Today, we celebrate 100 years since those modest beginnings.
Pymble Ladies' College – known then as the Presbyterian Ladies' College, Pymble – welcomed just 60 girls on that first day. Today, as I look out, there are more than 2000 students seated here.
Pymble was born during a time of extraordinary change.
The federated states of Australia were just 14 years old and a national currency was only just being introduced.
Radio transmissions across the oceans were still two years away. We served King George V with passion, but most of us had never heard his voice.
If you were one of our first 60 Pymble girls, you would know of families whose sons and fathers had died in the Great War. You might even be quietly grieving your own brothers and father, after last year's bloodshed in Gallipoli.
Just attending Pymble was an act of unusual belief in your worth as a young woman, and in your potential to be an adult of significance and influence.
Pymble's founder, Dr John Marden, believed it was women who set the standard of national life – and the 11 College Councillors agreed. Together, they were rare thinkers of their time.
To create a school where young women would be nurtured and educated and inspired as equals to men was considered by many to be lunacy. And we proved them proud.
Standing here, on the first ever day of Pymble, was Marie Byles, aged around 16. She would graduate the next year as Dux, and go on to be the first qualified female solicitor in New South Wales. She would be the first woman to ever open her own legal practice.
And she was a very proud Pymble girl.
Girls, you are following the footsteps of more than 20,000 wonderful girls and young women. From those 60 girls on the very first day of Pymble to today, you are part of a tradition and a history that believes in your worth and says you can do anything.
When Dr Marden retired in 1920, he told the girls that, in youth, all things were possible. Today, I say the same.
As you walk around the school today, go past Marden House and Lang House and right here, the Colonnade.
These were the buildings you would have seen on your first day in 1916.
As you walk around these buildings, imagine just what it was like.
Remember, too, the wonderful history we've written since then that means you can do anything, be anything and achieve anything.
Because you are a Pymble girl.