Wellbeing – more than just warm and fuzzy feelings
Wednesday 6 April, 2016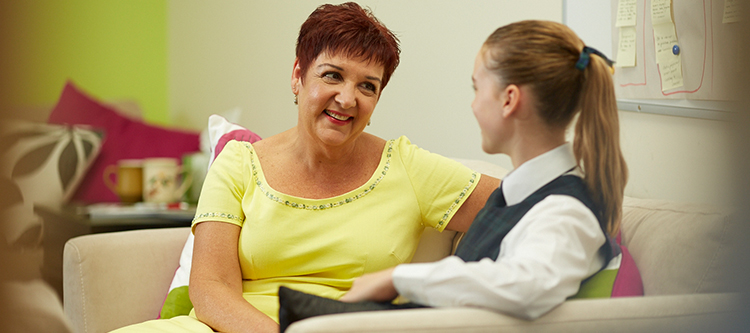 It's easy to fall into the trap of underestimating the potential of young children and adolescents. After all, they still have much learning and growing to do!
Pymble practice and philosophy is the exact opposite: we believe in the potential of our girls and support them to be their very best at every age and stage of their development. Each and every year, Pymble girls prove themselves to be tremendously capable, positive, collaborative and supportive of each other and the communities around them. This in turn inspires endless creativity, ambition and aspirations.
We attribute this, in part, to our Wellbeing program, a world-class, research-driven, intentional framework of actions and networks that supports every girl to grow from the dependence of the youngest years to the independence of our Senior School graduates.
Wellbeing is far more than positive feelings. It's about physical and emotional health and resilience, with its success demonstrated by a wide range of behaviour and attitudes – from healthy eating and physical fitness through to hopefulness and optimism. Wellbeing is also intrinsically linked with academic performance. A girl that has the psychological, social and physical resources to meet challenges is able to learn, grow and achieve her potential.
Such a wide-ranging set of outcomes requires a detailed and thoughtful approach. Throughout Pymble, the Wellbeing program is interconnected between years, schools and staff, offering a structured scope and sequence designed to reflect girls' growing knowledge, maturity and experiences.
A simple example is our approach to cyber safety. Our firewall strongly limits younger students from accessing inappropriate material while we teach them simple principles about staying safe online. As students grow in wisdom and in age, we continue to teach them safe principles within widened firewall boundaries. We also have an integrated program of digital safety information delivery, provided by well-respected external providers, to give students and their families' foundational knowledge in the early years through to detailed and age-relevant information in the Senior School.
International research strongly indicates that a sense of connection, through empowering teacher, peer and parent relationships, is key to wellbeing.
This year, our teaching staff are being given greater opportunities to know, guide and challenge each of the girls; to understand how each girl is travelling in her journey at Pymble, and to help them set goals to achieve life balance. We have also increased the number of staff directly involved in student mentoring and coaching through the Connect program, and are encouraging consolidation time throughout the school day, when students can simply 'be': be still, reflect and take a break from the busyness of school life. As always, we offer broad co-curricular offerings to enable girls to embrace their interests.
We also actively promote positive relationships with parents, recognising that families have the first and most significant influence on their daughter's learning, wellbeing and development. The Melbourne Declaration, for example – which outlines educational goals for all young Australians – specifically encourages parental engagement. Ways of partnering with parents are numerous throughout the year, including parent information sessions and regular opportunities to meet through community and educational events.
Finally, our Wellbeing program includes a specific focus on peer relationships. Positive, collaborative relationships between girls are a powerful force for good. A wonderful example was last year's Year 12 cohort, who actively lifted each other toward greater success by openly sharing notes and ideas and encouragement.
Our aim, as always, is that each girl will feel encouraged, supported, embraced and challenged. From this firm foundation of Wellbeing, she'll have the security and confidence to thrive.