For the latest updates from the College regarding COVID-19 advice and guidelines, please see below.
The College will continue to update this web page with information from the Principal, if and when necessary.
Thank you.
---
Update Issued: Wednesday 20 October 2021
Our Return to Campus brochure, which is full of important information to inform your daughter's return bas been updated.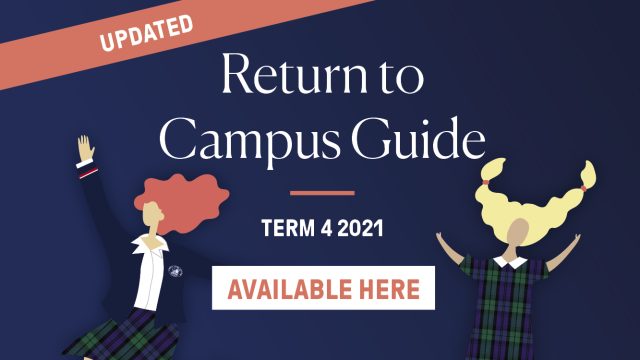 ---
Update Issued: Thursday 7 October 2021
We are looking forward to welcoming the girls back to campus. Please click below to read our Return to Campus brochure, which is full of important information to inform your daughter's return.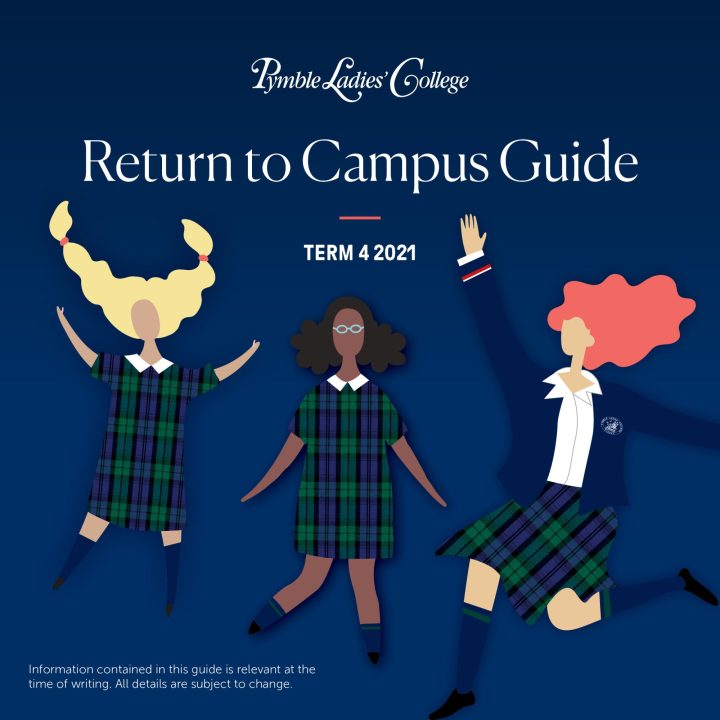 ---
Update Issued: Thursday 30 September 2021
Revised return to campus plan
You would have heard this week's news that the NSW crisis cabinet has signed off on students returning to school for face-to-face learning one week earlier than expected. The revised plan is as follows:
Kindergarten, Year 1 and Year 12: Monday 18 October (Week 3)
Years 2, 6 and 11: Monday 25 October (Week 4)
Years 3,4,5,7,8,9 and 10: Monday 1 November (Week 5).
Boarding students return on the following dates:
Year 12 Boarders: Sunday 17 October
Year 11 Boarders: Sunday 24 October
Years 7 to 10 Boarders: Sunday 31 October
Having previously determined to align our return to campus with the government's timetable, the College will be following suit. All essential details about Pymble's return to campus will be communicated in a comprehensive e-book sent to families at the end of Week 1.
The state's vaccination rollout has been key to allowing this earlier return to face-to-face learning, and our Pymble family deserves a huge shout out for being so responsive in taking up vaccination opportunities as they arise. It is hugely reassuring to know that the majority of staff and students will be fully vaccinated by the time we are back on site.
---
Update Issued: Friday 17 September 2021

When will my daughter be able to return to Campus?
Public Holiday: Monday 4 October
Pupil Free Day: Tuesday 5 October
Classes begin: Wednesday 6 October
Term finishes: Friday 3 December at 1:15pm
· Kindergarten: Monday 25 October
· Year 1: Monday 25 October
· Year 2: Monday 1 November
· Year 3: Monday 8 November
· Year 4: Monday 8 November
· Year 5: Monday 8 November
· Year 6: Monday 1 November
· Year 7: Thursday 4 November
· Year 8: Wednesday 3 November
· Year 9:
Week 5: Monday 1 November Group 1 at Vision Valley, Group 2 learning from home
Week 6: Monday 8 November Group 1 at Vision Valley, Group 2 on campus
· Year 10: Tuesday 2 November
· Year 11: Monday 1 November
· Year 12: Monday 25 October online HSC begins 9 November
Yes. Camps are not permitted at this stage. Year 9 will be at Vision Valley for ten days as a residential program and will align with return to Boarding guidelines. Other year groups will have opportunities to visit Vision Valley and enjoy our Outdoor Education Program in 2022.
What is Pymble's teaching and learning plan for Term 4 2021?
Yes. Read on for more detailed information.
Pymble has celebrated our onsite academic excellence for many years and more recently has proven its ability to provide an exceptional standard of education for our students through Pymble Online. As we look to a return to on campus, we recognise the reality that there will be a high likelihood of students unable to attend campus face-to-face for periods of time. With this in mind we've been planning for this new paradigm, with the same focus on excellence, no matter where you are learning. We are calling this new paradigm – P2 (Pymble to the power of 2! – onsite and online combined). Our aim was to develop a solution where there was parity for those at home, providing equal access to the learning.
Each Secondary teacher has been issued with an iPad and pencil, so they are able to continue teaching and drawing using digital whiteboards through Microsoft Teams. For those onsite, the digital whiteboard will be projected on the screen in the room. For those online, the digital whiteboard will be live streamed to them through Teams with the teacher's video and audio. Students in Years 7 to 12 will dial in for each lesson and their teachers will have their laptop as a second device to be able to view those students at home in front of them.
Our Secondary staff are engaging in a full day of professional learning at the start of Term 4 to best support students to thrive in the new paradigm of P2.
Girls in Preparatory and Junior Schools, whether learning online or onsite, will check in with their regular Compass Teacher at:
– 8.30am (Kindergarten to Year 2), or
– 8.15am (Years 3 to 6)
Girls will then continue their day with their online or on-campus timetable with a slightly modified class group, depending on numbers. They will be taught by their regular teacher or a teacher from their grade who is familiar to them. Specialist teachers will remain unchanged. Any adjustments will be communicated to you ASAP.
Learning content will be aligned for both online and on-campus learning. The online timetable will reflect current online timetables for students. For Preparatory School students, the on-campus timetable will significantly reflect the Semester 1 timetable with some small adjustments to account for the end of the school day at 2.15pm.
On campus, we will be teaching outside as much as possible in the fresh air (under shade). Assemblies and Chapel will continue online.
You must nominate each week whether your daughter will be learning at home or face-to-face on campus. This form will be shared in the weekly College newsletter, which is sent on a Thursday evening. The first form will be sent the week before school returns. If you need to change your daughter's learning configuration, you must let her Head of School know the week prior to this change.
Please refer to information shared by our Director of Student Learning (Years 11 to 12) here.
Please refer to information shared by our Deputy Principal – Academic (K-12) here.
What is happening with Sport and Co-curricular activities?
At this stage it is unlikely that IPSHA and IGSA competitions will be reinstated. Any changes will be communicated to you through the College newsletter or similar.
We are investigating small group activities where girls can be adequately spaced. More information will be communicated to you soon regarding our activities.
At this stage the Centre will remain closed, in alignment with the Level 3 plus return to schools plan.
When schools return visitors are not permitted on the College grounds; however, once the restrictions are lifted, we will consider access for local children and external individuals who participate in our Aquatic Centre programs. Pymble students will be our priority when the Centre reopens.
We have provided refunds to families whose daughters' activities have been cancelled and could not run via Pymble Online.
What health and safety precautions is the College taking?
All staff and students in Years 3 to 12 will be required to wear a surgical mask for the entire day. We recommend K-2 students wear a mask, but it is not mandatory.
We have conducted thorough research that indicates the standard surgical face mask is the best option for the continued health and safety of the College community. If your daughter requires a new mask during the day or if she has forgotten to bring a mask to school, we will provide her with a mask in the appropriate size for her age group.
Girls must wear surgical masks at school. If they arrive without one, we will provide them with one, or if she comes with an incorrect mask, we will ask her to put on the standard surgical mask provided by the school.
All staff members, including contractors and catering staff, are required to be fully vaccinated by 8 November. New staff members or contractors must prove their vaccine status to commence employment.
There will be limited opportunities for the College to offer vaccinations for students – a communication will be sent to families in Years 6 to 9 shortly. We encourage families to independently organise vaccinations for their daughters independently of the College.
Students and staff who become symptomatic onsite will be required to leave campus immediately, obtain a PCR test and isolate until a negative result is returned. Rapid Antigen Testing will be offered for staff working at Vision Valley and our Boarding houses only, upon change of shift or each day – depending on their schedule.
You will be contacted to collect your daughter from campus and required to obtain a COVID-19 PCR test and she will be required to isolate until a negative result is returned.
The College campus will be closed for deep cleaning and to identify close contacts of the positive case. The school will send urgent communication to all families with next steps and will work with NSW Health and the Association of Independent Schools to identify close contacts. Any close contacts will be notified by text message outlining next steps.
How will the wellbeing and mental health of my daughter be supported?
Our Directions class teachers will support girls regarding the social and emotional readjustment of returning to campus. This will include:
· How to reintegrate into friendship groups
· Addressing anxiety and worries your daughter may feel post-lockdown
· Learning to communicate while wearing a mask, i.e., reading emotions and facial expressions – we suggest you practise mask-wearing at home with your daughter prior to her return to campus.
Is the Campus a COVID-safe venue and how will this be managed?
No, unfortunately, as per NSW Health Guidelines we are unable to allow visitors onsite.
All classrooms have been tested and modified to ensure multiple layers of ventilation and air filtration, as per expert advice. We will be layering the use of air conditioning, open doors and windows and Co2 to draw in maximum fresh air and purify it. We have engaged Co2 monitors around the College and our air conditioners are fitted with F7 filters. Sanitiser is available at all entry points. The College will be regularly fogged and cleaners will be assigned to regular sections and will be cleaning thoroughly.
What food options will be available on Campus?
Our caterers, Chartwells, will provide pre-booked Lunch on the Run for Day girls but hot options will be unavailable. Boarders will receive their meals as normal.
The Jacaranda Café (Senior School) and the Conde Café (Upper School) will be operating as normal.
What are the transport options for my daughter?
All five Pymble bus services available from Week 5 until end of term. If you have not used this service before and wish to send your daughter to school by Pymble bus, please visit here.
Yes, if the trains are running your daughter will be able to use this form of transport to and from school.
Yes, but Junior School girls using Grey House Walk and Sufferance Gate will need a pass to access these routes. Staff will supervise as normal.
What are the uniform requirements for Term 4 2021?
All Secondary School students learning on campus will be required to wear their full summer uniform. Students in Kindergarten to Year 6 may wear their sports uniform. All students learning online may continue to wear their PE or House Shirt. The College Shop is open for Click and Collect for purchases made in the lead-up to return to campus. Click here for more information.
What does the return to Campus mean for Boarders?
Year 12 girls will arrive on campus on 24 October and the remaining boarders will return on 31 October.
We strongly encourage vaccination for all Boarders.
There is a comprehensive plan in place for the health and safety or all Boarding students.
· Boarders will be required to have a PCR test 48 hours prior to returning to campus and must isolate between the test result and their return to Pymble
· Staff who do not live onsite will be required to take a Rapid Antigen Test regularly
· Lang House will be made available for Year 12 girls in need of support in Week 1.
Your daughter will receive a COVID test and will be required to isolate in Joan Hammond Cottage until she receives a negative result. If your daughter returns a positive result you will be required to collect your daughter from campus and she must isolate in your home for 14 days. If at the end of this period she is symptom-free for 72 hours, you must obtain medical clearance from a doctor to return to campus.
Unfortunately, the Houses will not be able to mix. A 'bubble' system is the safest option to maintain the health of all in our Boarding community.
Not in their bedrooms, only in common areas at this stage.
Which events will go ahead in Term 4 2021?
It is unlikely that we will host any on-campus community events.
Yes! We are so excited to share that we are planning a fantastic Valedictory Dinner and Celebration for our beautiful graduates, scheduled for 29 January 2022.
We hope to be able to celebrate student learning in the final week of Term 4.
---
Update Issued: Tuesday 31 August 2021
We are looking forward to welcoming the girls back to campus. Please click below to read our Return to Campus brochure, which is full of important information to inform your daughter's return.
---
Update Issued: Saturday 26 June 2021
This afternoon, the Premier of NSW announced a two-week lockdown for Greater Sydney, Blue Mountains, Central Coast and Wollongong, effective from 6.00pm today Saturday 26 June.
All on-campus activities cancelled or postponed or online
As a result of the stay-at-home order, all co-curricular activities during the holidays have been cancelled, postponed or moved online.
Cancelled:
Holiday Intensive Learn to Swim and Swim Squad programs
Northern Beaches Water Polo training on Monday 28 June
Athletics Camp and Mini Carnival in Week 3 of the holidays
Gymnastics training on Monday, Tuesday, Thursday and Friday
Gymnastics NSW Border Challenge on the Sunshine Coast
Regional Snow Sports.
Postponed:
Gymnastics Australia's National Clubs Carnival on the Gold Coast.
Moved online:
RAD Ballet Workshop in Week 3 of the holidays.
Conde Library will also be closed until further notice. Senior School students will not be able to use the Library for private study during the holiday period, as previously planned.
Activities related to our 'Love Over Hate'Community Project for Wayside Chapel have also been postponed. This includes packing sessions for donated items and tours of Wayside Chapel on Wednesday 30 June and Wednesday 7 July.
Limited access to the College
Gates 1 and 2 will remain locked, and there will be no pedestrian access through the College via Sufferance Walkway and Grey House Walk.
In the current environment, visits to our campus are not encouraged. However, should students or parents/carers need to collect essential items required for home study, please enter the College via Gate 3, scan the Service NSW QR code on display and present to Security who will assist you.
Main Reception will be closed until further notice, however, should you wish to contact the College during normal operating hours, the phones have been diverted to staff who will be working from home and can assist you.
Holiday Program at OSHC
Fortunately, we can continue to operate our Out of School Hours Care Holiday Program on campus for children of essential workers only. Please note, all planned incursions and excursions for the Winter Holiday Program have been cancelled and children will remain on site at all times.
Parents are asked to follow the COVID-19 guidelines for our Holiday Program which include:
Scanning the QR code at the entrance to Sunshine Square before signing in and out.
Wearing a face mask at all times on campus.
Observing physical distance as directed by staff.
We will provide further updates regarding the holidays and commencement of Term 3 as required. For now, thank you for remaining extra cautious and alert for any symptoms of the virus, following the advice from NSW Health and having a COVID test if you show even the mildest of symptoms. If the event that you, or someone in your family, test positive, please let us know via health@pymblelc.nsw.edu.au.
Please also remember to factor in time for self-care (and encourage this in your children) and to reflect on all the wonderful people in our lives who are trying their very best to keep our country and community safe.
Take care and stay well.
Dr Kate Hadwen