Pymble's Published Cookbook Authors Give OzHarvest a Hand
Wednesday 24 June, 2020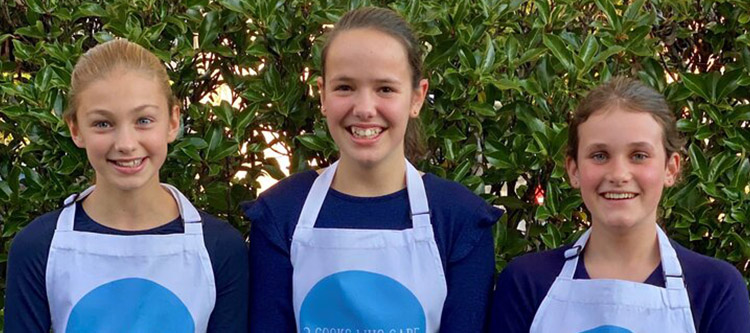 Three Pymble girls made the most of their time in isolation while embodying the College values of Care, Courage, Integrity, Respect and Responsibility.
Inspired by Mr Bell's smash-hit Pasta Perfecto live event during Pymble Online, Middle School students Emily Rothery, Ellie Hennessy and Lily Lockhart (Year 7) teamed up to devise their own cooking club, starting with Emily's scone demonstration. Mr Bell is the husband of Pymble Principal, Dr Kate Hadwen, and well known to all their guests as the enthusiastic and talented cook of the household.
The girls were conscious that COVID-19 increased the likelihood for Australians to go hungry and, knowing that they were able to cook and provide for their families while many Australians could not, decided to help. Statistics show a sharp rise in unemployment and requests for Government assistance since the outbreak.
In their breaks from Pymble Online, the girls would take to their kitchens to create meals for their families and share their favourite dishes. They then wrote and adapted 30 recipes for an 80-page cookbook, 3 Cooks Who Care, raising funds for OzHarvest by publishing with Published Authors, who specialise in fundraising cookbooks.
"We chose Ozharvest because they are making a difference to many lives. With every $1 we donate, OzHarvest is able to provide two meals to hungry people," Lily said.
OzHarvest was established in Sydney in 2004 by Ronni Kahn AO, who devised a way to help supply meals to charities and communities in need by rescuing "good food going to waste" from supermarkets, farms and hospitality providers.
Ellie said the book took six weeks to write and four weeks to edit and produce, finishing with her chicken enchilada recipe on 17 May.
While the girls worked in their own homes during isolation, they were still able to interact and have fun, dancing and singing in their kitchens while cooking together online.
"'True friends may be apart in distance but never in heart'," Emily said.
"This quote really related to our story as even though we were physically apart, we always felt connected through the fun times we shared together."
3 Cooks Who Care will be published in the coming weeks and features recipes for Emily's rocky road, Ellie's ricotta gnocchi, Lily's brownies and Mr Bell's pesto sauce.
Click here to purchase 3 Cooks Who Care from the girls' website.