A world of Drama at Pymble
Wednesday 1 August, 2018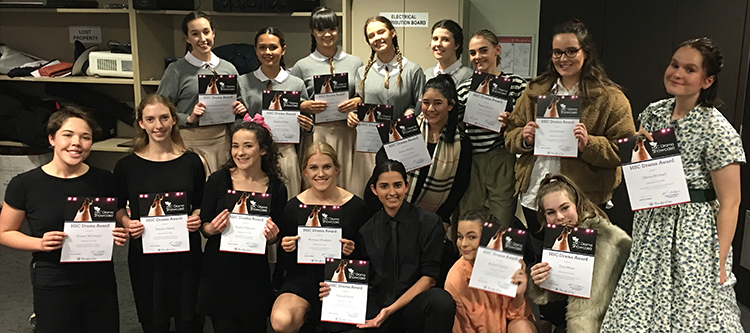 Thought provoking, engaging and at times confronting, Pymble's HSC Drama Showcase pushed boundaries and highlighted the outstanding calibre of our budding actors.
The July 25 evening, held in the Gillian Moore Centre for Performing Arts, showcased ten diverse performances and six individual projects from our Year 12 HSC Drama students that included original, group-devised work, and adaptions of plays, films and novels, such as Shakespeare's Macbeth, and the Craig Silvey book, Jasper Jones.
Drama is a highly expressive art form and the HSC Drama course provides Pymble students with the freedom to explore performances and issues through the creation of thought-provoking and engaging dramatic pieces.
As part of the HSC Drama course, students are required to create an Individual Project, chosen from nine options. This year, Pymble students selected: Individual Performance, Video Drama, Costume Design, Scriptwriting, and Portfolio of Theatre Criticism.
Individual Performance requires students to create a holistic performance including selection of their script, editing, directing and crafting the entire journey of their character for an audience.
Video Drama requires students to write, design, direct and edit a 5-7 minute film.
Costume Design requires students to create four to six original costume designs for one of the texts from the set list.
Scriptwriting requires a 15-30 minute original script written for a theatrical production.
Theatre Criticism requires students to become newspaper journalists and review contemporary Australian theatre productions.
These Individual Projects allow students to delve into various dramatic forms and performance styles, and to use the elements of drama to express their ideas to their audience in a myriad of approaches.
Additionally, all HSC Drama students engage in a Group Devised Performance: This is a challenging and creative task where the groups create a completely original piece of theatre of 8-12 minutes duration that has a theatrical journey and message. Students need to collaborate and work together to devise, script and stage their performances; to become leaders within a group, make negotiations, practically brainstorm, and to express their ideas to an audience.
"We congratulate to our HSC Drama students for a wonderful insight into their work this year and wish them the very best in their impending HSC examinations," said Principal Mrs Vicki Waters.