Astronaut lands at Pymble
Thursday 2 March, 2017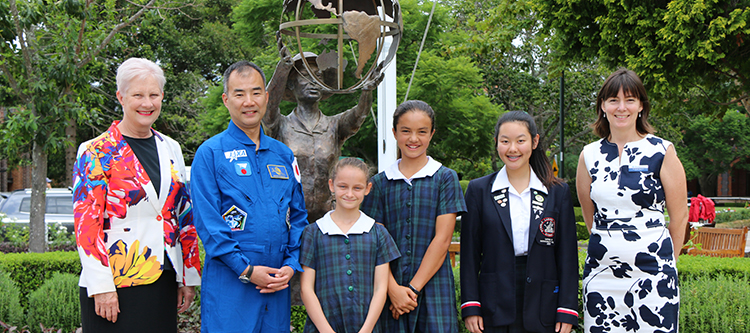 Students at Pymble Ladies' College landed the learning opportunity of a lifetime on Friday 24 February when they attended a presentation on 'Working Together Towards Sustainable Space' by a real life astronaut at the College.
The presentation was one of three 'Lectures for Globally-Minded Citizens' in Sydney by Japan Aerospace Exploration Agency (JAXA) astronaut, Mr Soichi Noguchi.
Mr Soichi Noguchi participated in the STS-114 mission by the Space Shuttle Discovery in 2005 and carried out three extra-vehicular activities. He stayed at the International Space Station (ISS) for five and a half months in 2009 and was responsible for installing and experimenting with the robotic arm of the Kibo Japanese Experiment Module.
The aim of 'Lectures for Globally-Minded Citizens' is to encourage the younger generation to think and act on a global level across national borders. The lectures are the initiative of the not-for-profit association JAL Foundation, founded by Japan Airlines in 1990.
"As a College deeply committed to the study of Science, Technology, Engineering and Mathematics (STEM), sustainability and global citizenship, Pymble was a natural choice of audience for Mr Soichi Noguchi," said Principal Mrs Vicki Waters.
"Student interest in STEM subjects and STEM challenges has really taken off in the past couple of years and continues to grow.
"Our girls are also determined to make a difference to their community, both locally and globally – there is no greater incentive to reach for the stars than a firsthand account of space exploration from a highly-experienced astronaut," Mrs Waters said.
Mr Soichi Noguchi is the second astronaut to visit Pymble – the first was American, Eugene Cernan, in 1983. The late Captain Cernan travelled to space three times in his career, including as lunar module pilot of Apollo 10 and commander of the Apollo 17 space flight. He also holds the distinction of being the second American to walk in space and the last human to leave his footprints on the lunar surface.