Boarders' Week at Pymble
Friday 30 August, 2019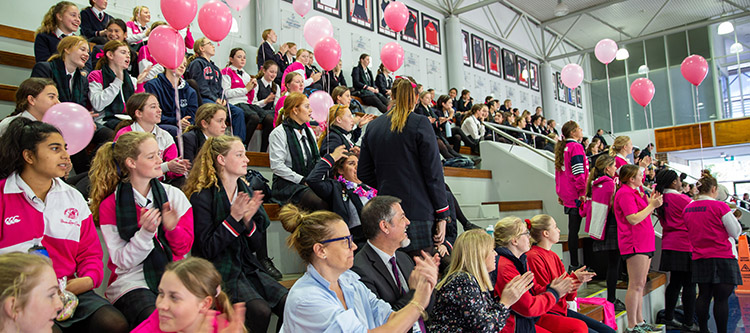 It has been a brilliant week in Boarding as we celebrated Boarders' Week with the entire Pymble community.
Our week started with a fun and fabulous Years 6, 7, 8 and 9 Social where we were joined by other local boarding schools – Abbotsleigh School, Loreto Normanhurst, Wenona School, Ravenswood School for Girls, Shore School and Knox Grammar. Great fun was had by all and it was really terrific to see our girls reunited with their primary school friends from their hometowns. A huge thanks to Mrs Christian and Miss Glover as well as our enthusiastic Year 11 and Year 10 Boarders who worked hard to make it such a successful evening.
On Sunday morning we enjoyed the company of the Pymble Uniting Church congregation in our War Memorial Chapel. This special service is always a treat, with the highlight being the baptism of four little ones and of course, the delicious brunch that followed.
The afternoon offered an array of activities designed to create and engage. Some of our Boarders produced stunning artworks, to be hung in the Houses, others made beautiful scented candles for sale at the Boarders' Stall at the Garden Party, and many girls cooked and baked, primarily for our new food range, Boarders' Pantry, which will make its debut at this year's Garden Party. Special thanks to Mrs Mel Hamilton, mother of Tori, and owner of Soul Food Narromine, who so generously shared her talent and passion for food to help us lay the foundations for the Boarders' Pantry empire!
We arrived at school on Monday to find offices radiantly swathed in pink and decorated with hay bales and farm animals. This was followed by various events throughout the week including the Boarders versus Day Girls volleyball, touch football and netball competitions, Boarder presentations in Chapel, an egg and bacon breakfast on Marden Lawn, a sausage sizzle and even sheep on display!
Boarders' Week was a fantastic celebration of our mighty Boarding community. Thank you particularly to Mrs Luise Geddes, House Supervisor of Goodlet House, who was the driving force behind the festivities. Thank you, Lu, for your tireless dedication and commitment to all things pink.
Click here to watch our Boarders' Week video.