Cricketer Shivani sets her sights on the green and gold
Wednesday 30 October, 2019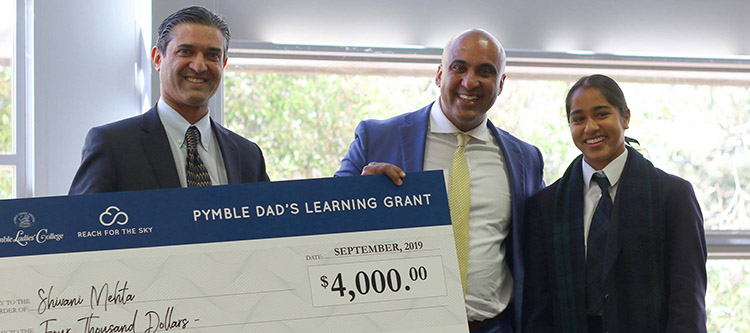 "My dream is to play cricket for Australia and be the best cricketer full stop." Star all-rounder Shivani Mehta (Year 10) is now one step closer to her dream of becoming a professional cricketer thanks to the new Pymble Dads' Learning Grant.
Shivani was announced as the first recipient of the Learning Grant at a recent Assembly and says she was "in shock" to hear her name called.
"I couldn't believe it had happened," Shivani says. "It's a big initiative by the Dads of Pymble and I'm very grateful for it. The Learning Grant will help me as it's providing me with the right tools to get me where I need to go."
Shivani plans to put the Learning Grant towards a trip to India to attend a high-performance cricket camp in May 2020.
"I'm very excited," Shivani says. "There are two camps, one in Mumbai and one in Bangalore, which are run by some very high-class coaches; one of the camps is run by Sachin Tendulkar, along with some other well-known cricketers. I'd like to go and receive world-class coaching and learn from some of the greatest cricketers in the world.
"Also, because the pitches are very different around the world, experiencing the pitches in India will elevate my game and give me that edge over other players. In Australia, the wickets are very different to those in England or in India as the ball bounces differently, so you have to adjust to the conditions. You can be the best player in Australia and then you can go to another country and choke, and that is why you need to be able to adapt to the various wickets in different countries."
Hoping to follow in ex-student Ellyse Perry's footsteps, Shivani, who is a batting all-rounder, was also fortunate to recently share the pitch with the top cricketer ahead of the Women's Big Bash League season.
"I actually I got to train with Ellyse and the Sixers in their last session before their first match against Thunder, which was very special," Shivani says. "It was great to get a taste of their professionalism and their work ethic towards their training. I learnt to be fearless and just go for it. There's no point being nervous, you've just got to show them what you can do. I've had a few one-on-one sessions with Ellyse in the past and she's very nice. She is always giving back to the community."
Before heading to India, Shivani will compete at the Australian National Championships in Tasmania in January after being selected in the Under 18 NSW Metro team earlier this month.
"Cricket is a developing women's sport and it's only getting better," Shivani says. "I'm so grateful for the opportunity from the Pymble Dads and after I go to India I would like to give back to the community and promote the Learning Grant as it will change people's lives."
To watch Shivani receive the Pymble Dads' Learning Grant, please click here.