Cross Country runners place at IGSSA
Friday 25 May, 2018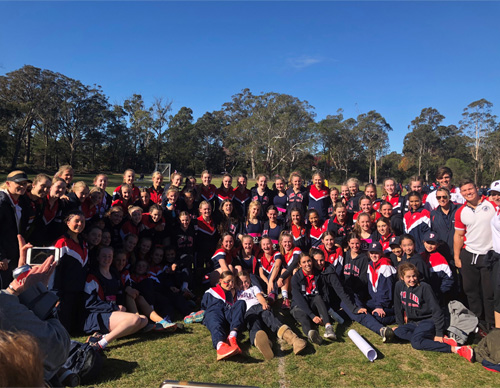 Another outstanding cross-country season has come to an end, culminating in the 2018 Independent Girls' Schools Sporting Association (IGSSA) Cross Country Championships, held at Frensham School, Mittagong in May.
Pymble placed second overall by only seven points and was the only school to place in all seven age groups. Outstanding individual performances included:
12 Years: Abigail Ballhausen, 1st
14 Years: Jessica Bird, 2nd
16 Years: Imogen Gardiner, 2nd
17 Years: Georgina Sargent, 2nd
Special congratulations to our Year 12 girls, who ran their last school cross country ever for Pymble: Catherine Miller, Edita Grinbergs, Caitlin Shewell, Claudia Wheatley, Georgia Cooper, Eliza Entwistle, Isabel Walker, Maddison Scott, Mackenzie Penn, Samantha Robinson, Hannah Westhuizen and Lauren Faahan-Smith. We thank these girls for their enthusiasm, commitment to, and leadership of, the Cross Country Team over many years.Hours of training and competition paid off with the following results.
Congratulations to all of the Pymble Cross Country teams:
12 Years
Abigail Ballhausen, Elizabeth Tyson, Jessica Colbran, Helen Nguyen, Asha Goddard, Indi Tishler, Jessica Woo, Gabrielle Zhong. Reserve: Grace Li
 13 Years
Emily Pearson, Caitlyn Tan, Sienna Bond, Alice Windybank, Cayla Philips, Georgia Spanswick, Jessica Needham, Gabriella Taylor. Reserves: Freya Carmody, Claire Oslington, Emma Livingstone, Isabella Lee, Sienna Stephens, Emma Liu, Nea Shingler, Alexandra McColl
14 Years
Jessica Bird, Jessica Tyson, Kristen Cook, Annabel Maple-Brown, Lilian Huntley, Isobel Gosper, Angelica Tan, Jessica O'Bryan. Reserves: Camilla Reynolds, Hannah Edwards, Abigail Verdal-Austin, Layla Farook, Anna Wang, Sophia Croudace, Amber Uther 
15 Years
Charlotte Lowe, Ella Koster, Nicola Farquharson, Adriana Fydler, Samantha Guthrie, Georgia Purcell, Isla Mason, Samantha Connellan. Reserves: Jessica Croudace, Greta Andrews, Jaime Bott 
16 Years
Imogen Gardiner, Ashlie Edwards, Sally Guthrie, Saskia Newman, Tess Orton, Amy Bonthorne, Kate Green, Imogen Vander. Reserves: Claudia Burt, Eleanor Buchanan, Sarah Gabb 
17 Years
Georgina Sargent, Edita Grinbergs, Sophia Carmody, Caitlin Shewell, Eleanor McNaught, Catherine Jones, Lauren Kowal, Sally Oslington. Reserves: Cosima Robson, Jaime Bell, Joanna Hill 
18 Years
Georgia Cooper, Eliza Entwistle, Isabel Walker, Madeleine Scott, Mackenzie Penn, Samantha Robinson, Hannah Westhuizen, Lauren Faahan-Smith. Reserves: Grace Barry, Claudia Wheatley
A big thank you to our wonderful Pymble Cross Country Coaches: Josh Williams, Olivia Irwin, Amanda Irwin, Jack Brown and Mikey Nicholas, and to our Athletics Coaching Director Deb Walsham.