Environment at the Heart of ESU Artists' Grant
Tuesday 22 September, 2020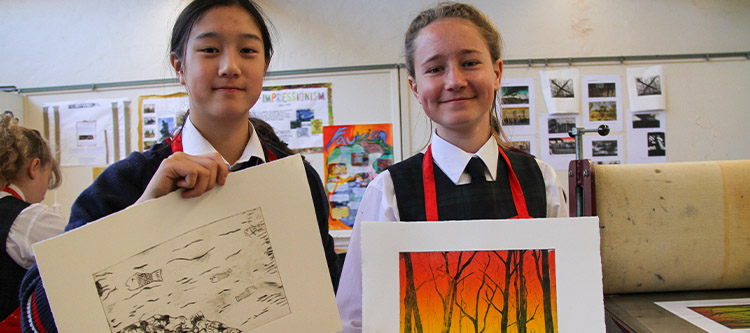 Our Year 8 girls have reaped the benefits of the Ex-Students' Union Artist-in-Residence grant, welcoming printmakers Anne Starling and Rafael Butron into the classroom. 
During the six-week residency, the artists mentored girls as they learned the techniques, mastered the printing press and developed their artistic intent. 
Teacher Amanda Harris said the girls took into consideration the world around them; basing their art around subject matter like extreme weather, fire, drought, urbanisation and the implications of climate change.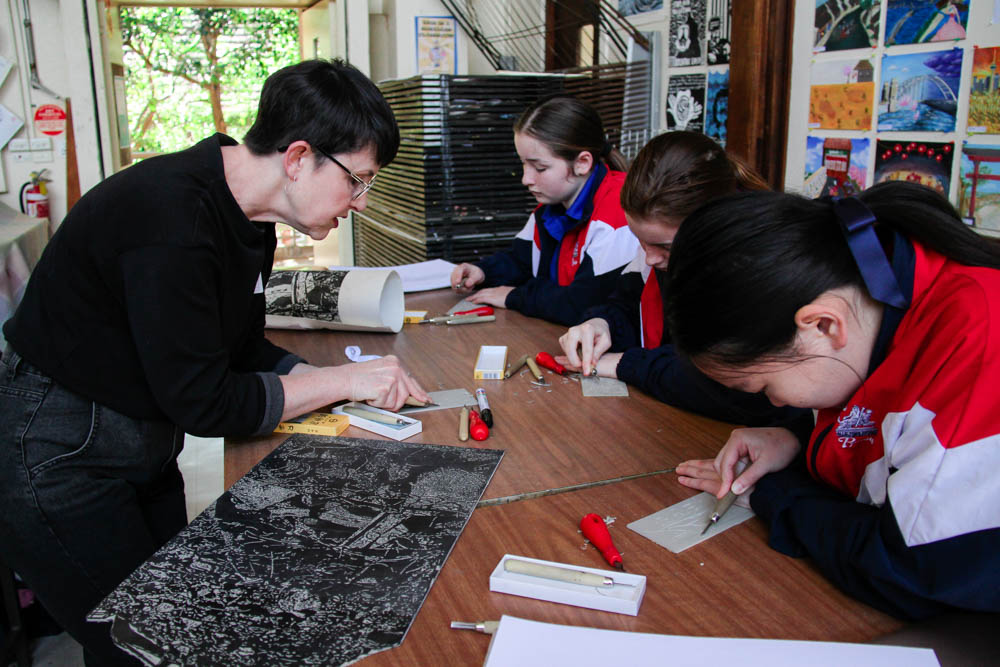 "It gives the girls a voice that they can have some aptitude in changing people's opinions. Art can do that." 
Head of Learning Area – Visual Arts, Mr David Del Favero, said the Artist-in-Residence program provided Year 8 Visual Arts students with the opportunity to reflect on their ideas, feelings, hopes and experiences. 
"Through the medium of printmaking, students have gained an appreciation for the way artists can be agents for change, and by doing so, they learn skills to confidently reimagine and shape their world," Mr Del Favero said. 
Anne and Rafael mentored the girls as they produced drypoint intaglio prints and linocut reliefs. 
"Throughout the residency the Year 8 girls were engaged and focused, printing their linocuts and drypoint etchings with enthusiasm and energy," they said. 
Girls began the process by learning the theory behind the practice, before moving on to practical work – including the use of the professional printing press. 
What resulted was a thoughtful reflection on the changing world and how the girls are approaching the issues affecting their environment. 
"It was inspiring to see the students develop personal responses to the topics of climate change and industrialisation. At all times the girls were motivated and industrious and it was a wonderful experience to work with such open and dynamic learners." 
Boarder Aspen Moore based her artwork on a photograph she had taken of a dust storm in Dubbo. 
"I took it when I was home for the holidays," she said. 
Given the chance to try something new, Aspen said the experience had been "really good" and a lot of fun to learn an advanced creative technique.