Five firsts in HSC for Pymble girls
Thursday 13 December, 2018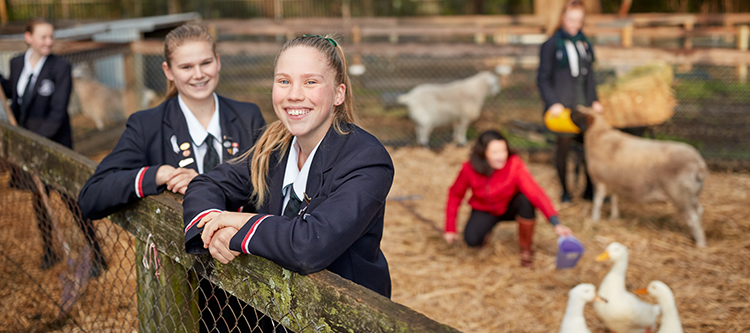 Pymble Ladies' College has outperformed selective girls' schools and selective co-educational schools in terms of the number of students to place First in Course in the HSC in 2018.
The five Pymble girls and their subjects are:
Phoebe Coles (pictured above) – Agriculture
Anjia Zhou – English ESL
Zoe Harrison – Dance
Emmerson Pearce – Food Technology
Sofia Whitbourn (Year 11) – Ukrainian Continuers (outside tutor)
The only school in NSW with students achieving more First in Course places was Sydney Grammar School, an academically selective school for boys.
In addition, 19 Pymble students earned a place in the Top Achievers in Course list across a variety of courses:
Charlotte Armati – 8th in Agriculture
Olivia Carolan – 9th in Senior Science
Alicia Chang – 6th in English Advanced
Phoebe Coles – 16th in Biology
Alexandra De Santi – 4th in Dance
Sumyukta Garikapati – 10th in Textiles & Design
Annaliese Hall – 3rd in Dance
Kate Han – 16th in Modern History
Vicky Huang – 5th in Food Technology
Samantha Kitchen – 8th in Senior Science
Giselle Laszok – 12th in Legal Studies
Julia Lin – 10th in Physics
Emmerson Pearce – 10th in Hospitality
Angela Wang – 10th in Legal Studies
Yanwen Wang – 20th in Biology
Tahire Wijetilaka – 10th in Modern History
Isabelle Yu – 10th in Hospitality
Daphne Zhang – 17th in Chemistry
Chloe Zhu – 16th in English Advanced
30 Pymble students were named in the All-round Achievers list. This list acknowledges the results of students who achieved Band 6 results (90 or better) in 2 unit courses or a Band E4 result (45 or better) in an Extension course in 10 or more units:
Charlotte Armati
Maxine Betty
Alicia Chang
Phoebe Coles
Juliette Di Bello
Catherine Graham
Zahraa Khan
Giselle Laszok
Sunny Lee
Wendy Li
Emily Liao
Julia Lin
Sayuni Mallikahewa
Jenny Ni
Emmerson Pearce
Olivia Pesavento
 Georgiana Ralphs
Emily Shaw
Emily Shen
Sonia Sun
Angela Wang
Jelinna Wang
Yanwen Wang
Sophie Webster
Alice Woodbury
 Joyce Wu
Faye Xie
Penny Ying
Daphne Zhang
Anjia Zhou
"These are exceptional achievements from a school that is non-selective and I congratulate our Pymble girls for striving for and achieving the highest accolade in their studies," said Principal, Mrs Vicki Waters.
"Congratulations must also go to our academic staff for their unwavering commitment to our Personalised Education pedagogy which focusses on knowing, guiding and challenging our girls to follow their passions and to succeed in whichever areas they choose."