Get into the swim of things
Friday 17 June, 2016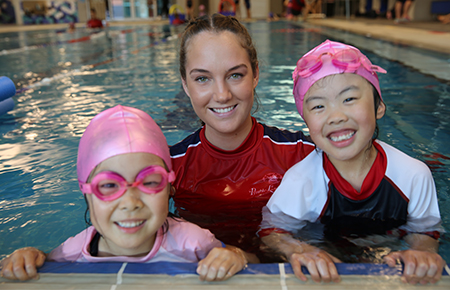 Pymble Learn to Swim pool in the new Sports Centenary Precinct is now well and truly open for business – and there are plenty of places for your child to learn to swim or to improve their swimming technique, too.
With Swimming Carnivals not too far away, now is a great time to start lessons to help your daughter feel prepared, confident and comfortable in the pool.
"Our Program has entered the second month of operation, and it is amazing to see so many Pymble Ladies' College students, their siblings and the external community already enrolled into lessons and improving so much!" says Leanne Oakley, Learn to Swim Coordinator.
"Our modern Learn to Swim curriculum and continued personalised assessment process ensure that all children are challenged and progressing the way they should be and, most importantly, ensure they have the fundamental skills required to keep them confident and safe in the water."
The purpose-built Learn to Swim pool is currently heated to a very pleasant 32.5 degrees Celsius, and caters for children of all ages and all levels.
For information on how to book for a complimentary Learn to Swim assessment, please email learntoswim@pymblelc.nsw.edu.au.