HSC Study Camp Success
Friday 20 July, 2018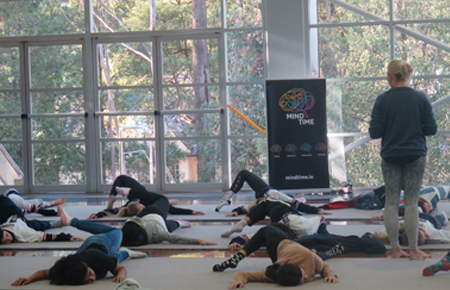 In Week 1 of the mid-year break, 75 Year 12 students attended the inaugural Pymble Ladies' College HSC Study Camp, designed to provide attendees with the tools and knowledge to study more effectively, stay motivated and strive for the highest in the upcoming HSC trials.
The camp offered a supervised, structured study environment on campus each day from 8.00am to 7.00pm in addition to healthy meals; daily sport and recreation sessions including yoga, spin classes, cardio circuit, pool use and social sports; and mentoring from recent high-achieving HSC graduates from Pymble.
The program began on Monday morning with an information session on mindset and stress management presented by psychologist Hazel McKenzie.
Day two commenced with a meditation and movement session led by yoga teacher Melissa Kidd; while day three started with a presentation on healthy eating habits for success and happiness by nutritionist Kim Holmes.
The camp was officially closed on Friday evening with a keynote presentation from Melinda Gainsford-Taylor AM, three-time Olympian, current Australian Record Holder in the 200m and Pymble athletics coach.