It's Nice to be Back
Monday 18 May, 2020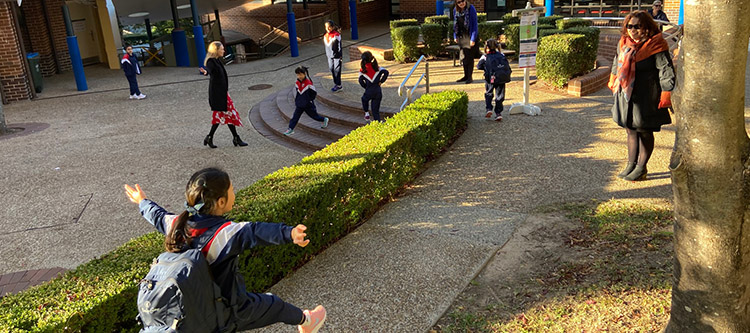 We were very excited to welcome our Preparatory girls back to campus in Week 3. We know that our littlest girls were excited to be spending time with their teachers, engaging in outdoor lessons and activities, and being able to talk with friends in a way that feels more natural; face-to-face, but with social distancing in mind.
Each Preparatory girl has enjoyed having her own desk complete with pencil case and chair bag for her personal belongings. There are a few new markings on outdoor benches and the floor, and the stairs have arrows explaining which side to walk on if you are walking up or down the stairs. However, the playful banter and chatter of our girls reached new heights in so many ways as the delight and excitement of connection was celebrated with distancing.
The voices of the girls have never been so important and who better than the girls to tell us about how they are feeling as they return to campus:
What is it like being back at school?
"It's nice to be back, it's not the same on my iPad. I've missed my friends and my teacher." – Charlotte Ma (Year 2)
"It's great being able to meet with friends, I'm enjoying being outside in the warm sun." – Misaki Nakoji (Year 2)
"I get to talk with my friends, I'm enjoying the fresh air and all the space." – Isla Huang (Year 2)
"I get to see all my friends and my teachers, and I get to do stuff like I used to do." – Freya Holland (Kindergarten)
"We can smash rocks and we can do more fun things all together." – Tiffany Ma (Kindergarten)
Welcome back girls!