Kids Teaching Kids
Monday 17 August, 2020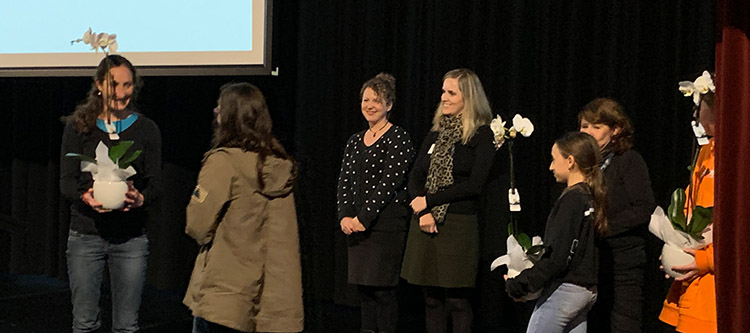 We recently were thrilled to launch our SEEDS (Science, Earth, Environment and Design Solutions) program for 2020. Amelia Barter, Year 8, summarises the launch below:
"The SEEDS projects are an incredible initiative where 'kids teach kids'. During their Science lessons this term, Year 8 students will construct a lesson about sustainability for the Year 6 students. To help us with our research, three influential women came to Year 8 to talk about their professions in sustainability. The presentations were a fantastic stimulus to young women and a wonderful kick-start to our project. Listening to these women who had accomplished remarkable things encouraged us that these acts of leadership are not out of reach.
We first listened to Ms Sarah Myles who works for RES (Renewable Energy Systems). She explained in detail why we should change our main energy source in Australia from coal to renewables, including the environmental impacts of coal and the sustainability of renewable energy. She then spoke about the company she works for, and how it helps the transition of energy sources. RES is a company that installs enormous solar and wind farms, one of which can generate electricity for up to 220,000 homes. If one of the wind farms they created runs for a year, it reduces the same amount of carbon dioxide as removing 490,000 cars from road.
Next, Ms Emma Treadgold gave a speech about sustainability in communities. Ms Treadgold is part of Ku-ring-gai Council and strives to help everyone in Ku-ring-gai reduce waste and energy use. She described different ways that we could reduce our waste and energy use as individuals, providing opportunities such as starting a compost heap, keeping thermostats at 21 degrees, and turning off appliances after using them. Additionally, she spoke about the lifespan of different types of plastics, and how to reduce our usage of them.
Finally, Ms Belinda Bean spoke to us about marketing for sustainability. After graduating from Pymble, Ms Bean attended Macquarie University to study marketing. She was shocked with the course they were given, as the students were taught how to cheat people into buying products. She then changed her studies to sustainability. After graduating university, she taught Macquarie University students about sustainability, and started a club called Tap It with her students. This club gave out water bottles made of corn starch to the students and designed water bottle filling stations all around the grounds.
This goes to show how anyone can make an impact if they put their mind to it, and we can start our transition to sustainability with SEEDS."