Knox and Pymble Unite for Gender Equality
Friday 6 March, 2020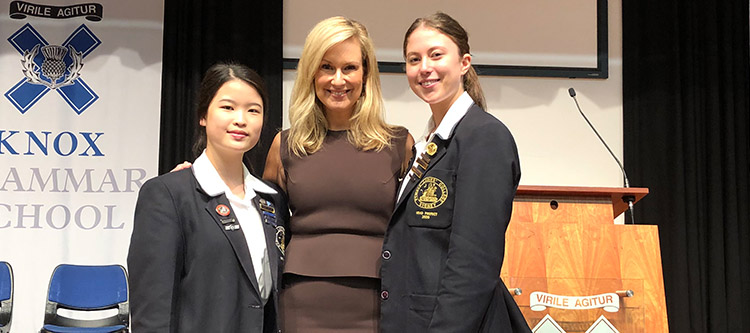 Pymble Secondary School girls were invited to Knox Grammar School ahead of International Women's Day for an impactful assembly headlined by journalist, former Sunrise and Sunday Night host and ex-Pymble student Melissa Doyle AM.
Head prefects Annabelle Richens and Viveca Tang then participated in a panel discussion with Knox Prefects Nicholas, Luke and James, sharing their views on what equality means to them.
Ms Doyle spoke about the importance of ending the gender pay gap, educating others to change their behaviour and thinking about equality.
"I want to remind you that the standard you walk past is the standard you accept," she said.
She also encouraged the girls to lean in to as many opportunities as they can.
"Don't always wait before you step forward. Have the confidence and the bravery to believe in yourself. There's a fascinating statistic that says if men have 60 per cent of the skills required, they'll apply for a job. For women, they wait until they've got 100 per cent. Maybe we need to think a little differently – but it's finding the confidence to be brave."
It was a sentiment Knox Headmaster Mr Scott James echoed, saying that Pymble and Knox were united in their ability and willingness to demonstrate similar College values.
"Just like Knox, Pymble's core values are shared, two in particular: courage and integrity. And I see time and time again, Pymble girls with strength and character, with resilience and with determination, stand up for what is right and they too respond to the needs of others," Mr James said.
"While Knox and Pymble share common core values I know we both also embrace a sense of social responsibility. Because of your capacity to leverage these values … I'm left in no doubt that you are the generation to educate the wider public on issues of concern."