Naming Ceremony for New Boats
Monday 18 November, 2019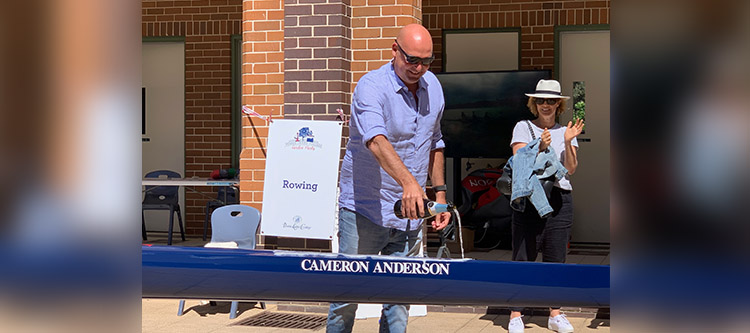 At the Pymble Garden Party, it was wonderful to be able to showcase rowing to the broader Pymble community by holding the Rowing Stall and naming two new boats. The Rowing Stall included the 30-second erg challenge for people of all ages. Lots of girls, boys, mums and dads challenged themselves to row as far as possible in 30 seconds. We were fortunate to have a visit from current Australian Eight rower, Georgie Rowe, who recently set a new world record for the 5,000-metre erg test. Georgie also set the record for the Pymble 30-second erg challenge, rowing a total of 174 metres. Congratulations to all of the participants and thank you to all of the rowing girls and parents who helped to organise and manage the stall.
We were fortunate to be able to name two new boats at the Garden Party. The new eight was christened the 'Cameron Anderson' in recognition of Cameron's outstanding leadership of, and contribution to, the Sport and Activities team over 14 years. It was great to have Cameron there to pour the traditional champagne over the bow, whilst several family members, friends and former colleagues watched on. We also christened a single scull the 'Eliza Johnson', after Pymble's 2019 Captain of Boats. This was a fitting recognition of Eliza's enormous contribution to the Rowing program, including rowing in the First Eight for three consecutive seasons and achieving National Championship medals of all three colours in those three seasons. Eliza also led the culture of the program, placing an emphasis on team orientation and a balance between hard work and enjoyment. Eliza's family were all in attendance, along with a large group of her rowing peers. Thank you to Reverend Punam Bent and Reverend Lorenzo Rodrigues Torres who blessed the boats and the rowers by anointing them with holy water. Thank you also to Chairman of College Council, Mr James Hunter, Principal, Dr Hadwen, and Deputy Principal, Mrs Shaw, who were there to share the occasion on a very busy day.
Click here to watch the boat christening.