Oar-some Pymble First Eight Crowned National Champions
Thursday 29 March, 2018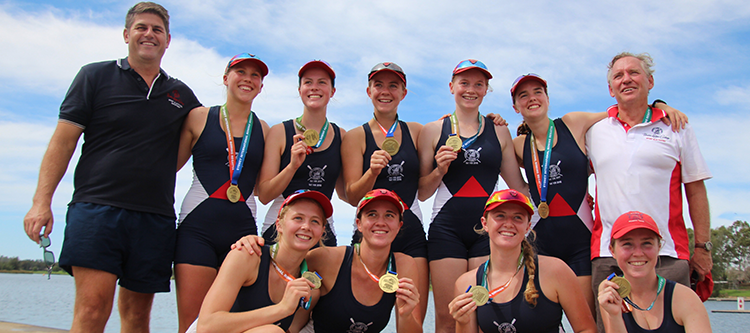 Back row, from left to right: Simon Pennington (Coach), Phoebe Coles, Hannah Westhuizen, India Thomson, Olivia Hunt, Eliza Entwistle and Jeff Paterson (Coach). Front row, from left to right: Sophia Carmody, Eliza Johnson, Mackenzie Penn, Allyson Campbell.
Two years ago, Pymble Ladies' College decided it was time to steer the Pymble Rowing program in a new direction. Rowing at Pymble had a long and proud history of excellence, however a lot of water had passed under the bridge since Pymble Rowers last claimed the National title.
All that changed on Sunday 25 March, when Pymble's First Eight crew capped off a stellar 2017/18 season by winning the Schoolgirl Eights event at the Australian Open Schools Rowing Championships, held at the Sydney International Regatta Centre. The crew, comprising of Phoebe Coles, Mackenzie Penn, Eliza Johnson, Eliza Entwistle, Sophia Carmody, India Thomson, Hannah Westhuizen, Olivia Hunt and Allyson Campbell, was awarded the Sydney Cup for the first time in 13 years.
The A-Final of the Championships included the fastest crews from NSW, Victoria, South Australia, Tasmania and Western Australia.
"The race unfolded in spectacular fashion with the St Catherine's School crew from Melbourne taking an early lead and seven other crews jostling for second place, a boat-length behind," said Pymble's Coaching Director for Rowing, Mr Simon Pennington. "At the halfway mark, the Pymble crew was in second place by three seconds. During the third quarter of the 2000 metre race, our girls demonstrated exceptional courage and determination to surge towards the front, edging into the lead with only 200 metres left to row. Pymble crossed the finish line, jubilant and exhausted, just 1.77 seconds ahead of silver medallists, St Catherine's and bronze medallists, Methodist Ladies' College in Kew."
Principal Mrs Vicki Waters attributes the success of the rowers to their commitment to their goal, as well as the College values.
"These students are the embodiment of the College's values of Care, Courage, Integrity, Respect and Responsibility," said Mrs Waters. "Their success is the culmination of meticulous preparation over the past seven months, developing their strength, fitness, technique and mental toughness to achieve their ultimate goal of being the fastest Schoolgirl Eight in the country. Most importantly, they've had fun achieving this goal as a team."
The Pymble Rowing crew had a highly successful 2017/18 season, winning several major regattas, including the NSW State Championships and the prestigious NSW Schoolgirls' Head of the River for the first time in six seasons.