Pymble community rallies for farmers
Thursday 6 December, 2018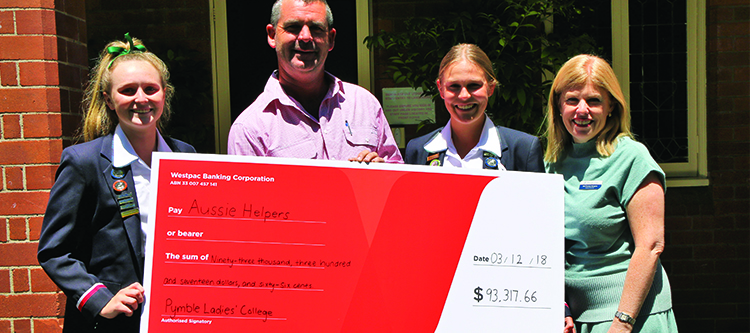 The Pymble Ladies' College community has rallied to raise more than $90,000 in 2018 to help New South Wales' drought-stricken farmers.
The money, which will be donated to Aussie Helpers – a not-for-profit charity that supports Australian farmers doing it tough – was raised by students, parents, staff and friends of the College at two major fundraising events this year, September's Garden Party, and in August, the annual Boarding Charity Event.
The Boarding Charity Event, which was inaugurated in 2016, is led by Pymble's Boarding Prefects, many of whom come from farming families and know firsthand the struggles of drought-stricken country communities.
"Pymble has always had a strong connection with rural Australia because of our large cohort of Boarding students, and in recent years, due to drought conditions, it's been quite harrowing to hear that some of our girls are seriously concerned about their family farms and local communities back home," said Pymble's Principal, Mrs Vicki Waters.
"Our Boarding Charity Event has become a passion project for our Boarders who, along with our wider community, have really embraced the College's core values of Care, Courage, Integrity, Respect and Responsibility, and put so much energy into helping rural communities over the past few years."
This year, for the first time, the College's annual Garden Party also became a fundraiser for Aussie Helpers, contributing $55,000 of the total 2018 donation of $93,317.66. Even the College's youngest students in the Preparatory and Junior Schools contributed to the cause, raising an additional $3,000 by doing paid chores around the home, and organising a 'dress-up-as-a-farmer' day.
Further acknowledging the tough times in the country, the College recently announced that in 2019 it will offer the equivalent of two additional Boarding scholarships for students of primary producers in rural Australia. The College also established a drought relief fund to be able to offer fee relief to rural families who have been affected financially by the ongoing drought.
"We take our responsibility of care for others very seriously at Pymble," said Mrs Waters. "It's part of the psyche of our community to lean in and help fellow human beings in need, but at the same time we have also been humbled by the extraordinary results of our drought relief efforts."