Pymble cyclists receive Best Young Rider Awards
Thursday 12 May, 2016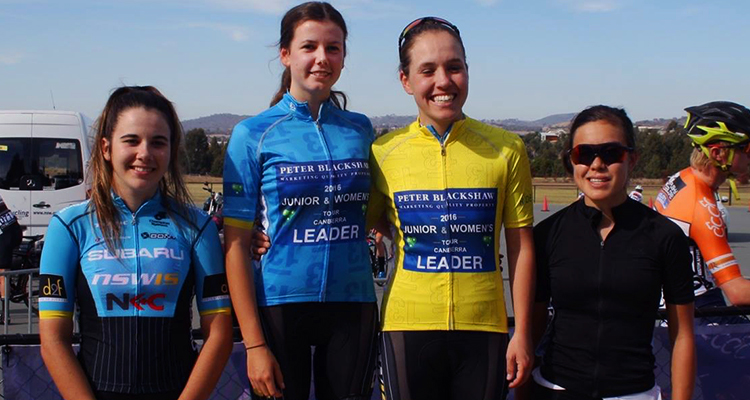 Pymble students Ashlee Jones and Laura Jones recently competed in cycling tours in Canberra, and have both been named Best Young Rider. Ashlee and Laura are both training in our Pymble Elite Sportswomen's Program.
Ashlee Jones
Ashlee Jones competed in the Canberra Junior Cycling Tour. It was an international field for Ashlee, who faced  competitors from New Zealand, Victoria, New South Wales, Canberra and Queensland.
There was a total of 40 girls in her age group with Ashlee being the youngest. Ashlee was awarded the Best Young Rider and was acknowledged as the most aggressive rider of the road race. Her results are as follows:
Time Trial: Seventh out of 40. A fantastic achievement being one minute 50 seconds ahead of the next first year and just one minute behind the winner over 16 kilometres.
Road Race 1: Ashlee was seventh and was the most aggressive rider (acknowledged by the New Zealand team who took positions two to five)
Road Race 2: Ashlee came in tenth
Criterium: Bunch finish and time
Laura Jones 
Laura Jones competed in the Open Women's Cycling Tour. Laura was the youngest rider (age 16) against women of all calibres and ability and achieved amazing results.
Laura raced in the 19 kilometre time trail finishing a pleasing fifth. In the afternoon she competed in the Road Race, which she won in a sprint finish.
She also competed in a longer road race through Stromlo Forest, finishing in fifth position, and the Criterium, taking out third place. Overall Laura was fourth on General Classification (one second behind third place) and held for the entire weekend the title of Best Young Rider on Tour.
About Pymble's Elite Sportswomen's Program (PESP)
The Pymble Elite Sportswomen's Program aims to identify, nurture, recognise and support Pymble students who have unique sporting talents as part of the philosophy of a "personalised education".