Pymble ex-student Laurene Leclerc's research has never been more topical
Thursday 23 April, 2020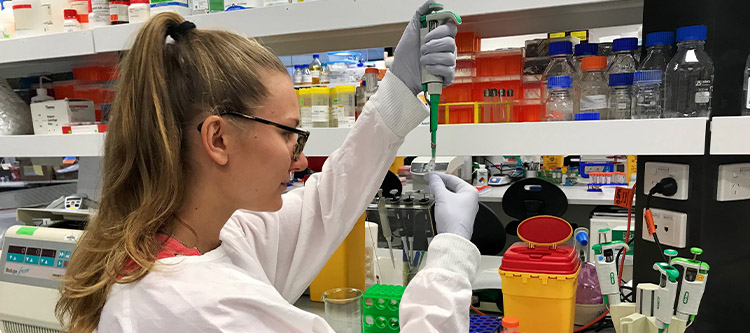 Laurene knew her passion for Biology in Secondary School was where her future lay. Since beginning her Bachelor of Advanced Science, majoring in Microbiology, her laboratory has focused on coronavirus – in its detection, and hopefully, how to find a solution.
"It was at Pymble that I went into my first science laboratory. I distinctly remember placing different metals in the Bunsen burner flame and watching them emit an array of vibrant colours: that was the moment that my interest in science sparked," she said.
After departing Pymble in 2011 to move overseas with her family, Laurene's career trajectory became clear.
"I have always wanted a career with impact that can help people. As a researcher, I believe that I can help prevent and cure diseases as well as help the environment."
She is one of seven researchers in the White Lab – a virology lab – focusing on molecular virology, antiviral drug discovery, viral evolution and paleovirology.
"We have two ongoing research projects for the coronavirus (SARS-CoV-2). The first is identifying antivirals preventing the virus from replicating by inhibiting its polymerase enzyme," she said.
"The lab has a strong track record for the development of antivirals for viruses that are similar to the coronavirus (those that have positive sense RNA genomes such as the Zika virus and hepatitis c virus) since 2013 so we are hopeful to find a drug against the virus."
Coronaviruses, the family to which COVID-19 belongs, are primarily spread through respiratory droplets from people's mouths and noses. But there is evidence to suggest that there are other forms of transmission.
Laurene said another of the White Lab's projects analyses wastewater for the detection of coronaviruses excreted by urine and faeces.
"This allows us to estimate the total number of infections in a community, as many people do not get tested. It also allows us to track the increase of the virus over time, its diversity and evolution as well as identify it in the future if it returns to the community."
Laurene said it was at Pymble where she gained leadership skills and confidence at an early age – which has been beneficial in her career.
"I also built the foundations of my public speaking skills through theatre and presenting in class. As a researcher presenting their findings, a teacher at UNSW or through my science outreach involvements, effectively communicating ideas and talking to large audiences are possibly the most important aspects of my career.
"Further, with science and biology becoming increasingly digital, I consider myself very lucky to have been exposed to state-of-the-art technologies here at Pymble from a young age. By learning how to use a computer and researching since Year 5, I gained strong foundations for using technology which I continue to use and build upon in my career."
Laurene is a champion of girls and women in the world of STEM.
"After my PhD I want to continue researching and working on impactful projects. This either includes curing or preventing diseases, or helping protect the environment. Further, as a strong advocate for women in STEM and having run numerous outreach events, I will also continue encouraging young women to pursue scientific careers."