Pymble girls rise to STEM challenge
Thursday 9 June, 2016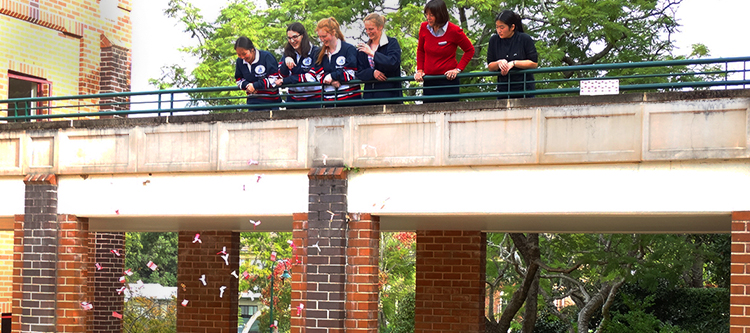 It is well known that women are severely under-represented in the fields of Science, Technology, Engineering and Mathematics (STEM) – an imbalance Pymble teachers and students are inspired to redress.
The College recently launched the inaugural STEM Games, a Kindergarten to Year 12 competition designed to promote awareness of the importance of STEM subjects, and to engage the students in fun ways to develop the skills needed to succeed in these areas.
The competition consists of three rounds, and a final and includes an adult division for staff and parents to participate, too.
"Each of the rounds is designed to highlight a different aspect of STEM," says Pymble Science teacher, Dr Kristie Spence.
STEM Challenge Round 1
"For example, in Round One students had to combine their artistic and creative design with the science of floating to make an attractive gift which can float.
STEM Challenge Round 2
"Round Two challenges students to see that sustainability, design and functionality can be combined to make an original toy, and Round Three will expose students to computer programming and mathematical thinking in a fun and interesting way to see the possibilities of computer programming."
The Finals will bring together all the learning students have gained during the three initial rounds to make an original and functional product.
For more information please visit the STEM website.
STEM Games Round 1 Winners
Well done to all the girls and staff who took part in Round 1 of the STEM Games. We are so pleased with the features that were submitted – they showed diversity and imagination.
Preparatory School Winners
It was wonderful to see the creativity and problem-solving skills shown by the girls who entered fabulous floating decorations in the STEM Games Round 1 Challenge.
At our recent Preparatory School Assembly, our winners were presented with very special medals made by Mrs Cassidy (ICT integrator) using the Pymble Ladies' College 3D Printer. They are:
Louisa Heritage (2S)

Addison Woods (1F)

Elizabeth Liu (KC)
Junior School Winners
The winners and finalists of the STEM Games Round 1 in Junior School were:
Alyssa Yee
Jessica Woo
Samantha Beverley
Shivani Senthil
Finalists were:
Cassandra Onikul
Emma Nirui
Layla Farook
Helena Trimboli
Josephine Wong
Cameron Stoodley
Isabella Yu
Deanna Zahedi
Claire McPherson
Secondary School Winners
The winners of Round 1 of the 2016 STEM Games for the Senior School were :
Middle School – Ella Cassin (Year 8)
Upper School – Sabrina Diep (Year 10)
Senior School – Anna Ding, Michelle Chai and Dhruvi Lathigara (Year 11).
The Conde Library staff won the Parent and Staff division.