Pymble Ladies' College dancers find their feet online
Wednesday 22 April, 2020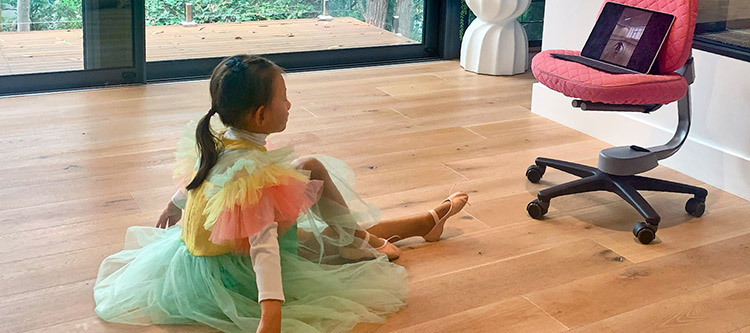 There are more than a thousand dance students at Pymble – and all of them now have access to a unique 'Dance at Home' program devised to help girls at different levels continue their dance exercises and sequences remotely.
When Pymble's Head of Dance, Miss Katrina Cluff, completed her Master of Educational Psychology degree recently, little did she know that her final project on the use of video demonstrations in the process of learning dance would become so relevant to students at the College during the COVID-19 pandemic.
"I could never have imagined we would be rapidly moving to use the research to replace our face-to-face teaching for a little while to ensure our girls can continue to be engaged by their dance teachers and lessons," Miss Cluff said.
Her first step was to prepare a 'Safe Dance from Home' guide for dancers and their families, to make sure that girls were able to continue their lessons safely.
Pre-recorded video dance classes have been popular for many students, including a number of girls enrolled in the Royal Academy of Dance Ballet stream, who are now able to continue their regular after-school dance sessions at home, she said.
The Pymble dance team has created new videos of each ballet exercise, demonstrated by Pymble Ballet staff, to help the girls practice their exercises weekly and see a familiar face.
The Dance at Home program was rolled out across Kindergarten to Year 12 at the end of Term 1, and has been supplemented by holiday solo, duo and trio challenges that the girls can submit to dance staff.
"We are in the middle of planning our Term 2 program now," Miss Cluff said. "While it's been great to use technology to replicate at least some of the experience of an in-house class, I am also keen not to tie girls to their screens any longer than they need to be."
Year 7 dance student Samara Bond said that the dance program has allowed her to continue to work on her group routines during isolation. "I've got dance videos for each week, with some of the combinations and segments of our whole group dance so we can practice," she said.
"I check my moves in front of the mirror compared to the video, and if they look the same, I know I'm doing well."
Samara said that while online dance lessons have allowed her to keep working on her technique, she's looking forward to going back to class.
"I feel like my dancing will be pretty up-to-date, though there's bound to be some corrections to make and I miss being in the group and having everyone dancing together!"

"I check my moves in front of the mirror compared to the video,
and if they look the same, I know I'm doing well."