Pymble salutes first Cadet Unit graduates
Wednesday 27 June, 2018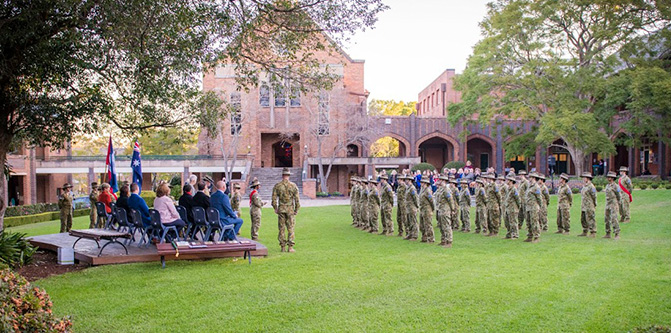 On Monday 25 June 2018, Pymble Ladies' College conducted its first Cadet Graduation Parade in the beautiful setting of Gloucester Lawn, in front of the College Chapel.
The Australian National Flag and Unit Colours flew proudly against the winter sky as visitors from the Australian Army, College Executive staff and Chaplains, parents and siblings witnessed the official graduation of five Year 12 Cadets and 16 Cadet Recruits from Years 9 and 10.
The Cadet Recruits graduated to the rank of Cadet, receiving their Graduation Certificate from the Principal and LTCOL Simadas, Chief of Staff, NSW 2nd Brigade, Australian Army Cadets.
Significantly, Pymble's first ever group of Year 12 Cadets was dismissed from the unit for the last time, having been presented with their Graduation Plaque.
"We are proud of all of our Cadets, but the Year 12 leavers are a reminder of the inauguration of our unit in April 2017," said Principal, Mrs Vicki Waters.
"These five Year 12 cadets were with us from the start and were responsible for helping the unit develop in their own way. All five were called on to facilitate, mentor and assist in the delivery of this important co-curricular program at the College and we know they will take the many skills they learned from the unit into their life beyond the College," Mrs Waters said.
Congratulations to our five Year 12 Cadet Unit graduates:
WO2 Gautirya Muralietharan
CPL Mar Uguina Tristan
CPL Stephanie Woolley
CPL Hanan Hassan
CPL Jemma Lang MacPherson
Company Sergeant Major, WO2 Gautirya Muralietharan held the role of the unit's first Head Cadet since Term 3, 2017, displaying the College values to their utmost, and setting a standard for all future rank to follow.
For her efforts and dedication WO2 Muralietharan was awarded the Unit Cadet of the Year Commander's Commendation.
Congratulations to our Cadet Recruits graduates:
Alessandra Natale
Ashley Chen
Brianna Lollback
Cassandra Long
Claudia Braysich
Courtney Wong
Ella Atkins
Emma Peters
Isabelle Jimenez
Jessica Croudace
Jessica Lin
Khue Nguyen
Leyla Gates
Maddie Lewthwaite
Serena Kao
Sophia Benson
In 2017, the Pymble Ladies' College Cadet Unit (PLCCU) was formally ratified by the Australian Army, making it the first all-female Australian Army School-Based Cadet Unit in the Commonwealth of Australia.
Click here to learn more:
Cadet program marches ahead