Pymble student places first in state in Italian
Thursday 22 December, 2016
Bravissimo to our HSC graduate Madeleine Carroll who topped the state in Italian Beginners. Multilingual Maddie has always had a passion for languages, having also studied French and Latin at Pymble. She credits the dedicated Languages teachers at the College for helping her to attain this outstanding result.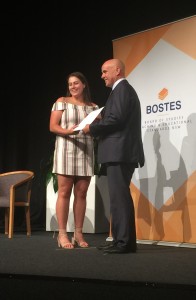 "I would love to thank the amazing language teachers so much," said Maddie. "I never could have achieved what I did without them, especially my Italian teacher, Mrs Sorina Cepraga.
"She went above and beyond with speaking practice, making herself available before and after school and at lunchtime in the lead up to the HSC.
"She was always so supportive and positive."
Maddie also attributes the class tour to Italy, which included a week of intensive study at the University of Foreigners, Perugia, for stepping up her proficiency in Italian language.
"Speaking in another language is definitely daunting, even in Australia when you are just practicing with your teachers," Maddie said. "It's much harder than writing it.
"Immersing ourselves in the language for those two weeks definitely helped us to improve."
Maddie was presented with her First in Course Certificate by the Minister for Education, Adrian Piccoli at an awards ceremony ahead of the official posting of results.
"This is a brilliant result for Maddie, who chose Pymble specifically for our strong languages program, which is her particular area of passion," said Principal Mrs Vicki Waters.
"Her teachers have guided and challenged Maddie to strive for her personal highest, as this result clearly shows. Congratulations!"
Maddie plans to continue to study languages – at least two – at university while undertaking a degree in Arts Law.
It was an outstanding year overall for Pymble's Italian Beginners class, with Charlotte Markson placing third and Isabelle Glover placing fourth in the state.
In total, eight Pymble students earned a place in the Top Achievers in Course List for their 2016 HSC achievements in Classical and Modern Languages.
For a full list of HSC achievements, click here.