Pymble student shines in Physics on the world stage
Tuesday 30 July, 2019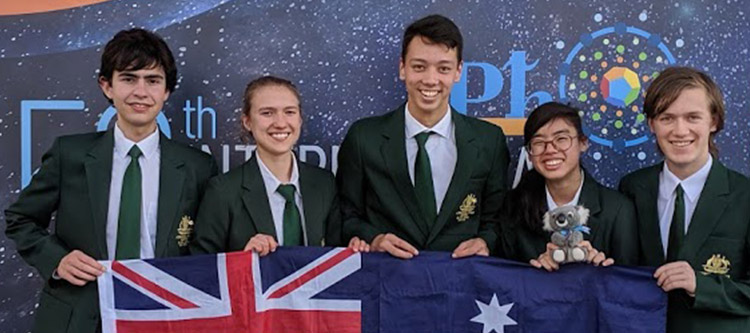 Pymble Year 12 student Jessie Lum (pictured second from right) this week achieved a Bronze Medal representing Australia in the 50th International Physics Olympiad (IPO) in Tel Aviv, Israel.
The IPO is the most prestigious international physics competition for secondary school students. Students from 76 countries spent nine days in Tel Aviv with host nation Israel putting on tours and events around the key attraction: two five-hour exams, one theory and one practical.
"The College is so proud of Jessie's achievement at an international level, and her inspirational leadership and mentorship of her fellow students," says Pymble Principal, Dr Kate Hadwen.
"Jessie is currently Pymble's Robotics Captain, she was part of the team competing in the 2017 FIRST Robotics World Championship in Houston, Texas and also helped design and manage the robotics in last year's School Musical," says science teacher Dr Kristie Spence.
Jessie's journey to the world stage began in Year 11 when she competed in the Australian Physics Olympiad.
As one of the top 24 students, she attended a two-week Physics summer school at the Australian National University, where she was one of the top five students selected to represent Australia at the 2019 IPO after spending a year doing exams and intensive training to make the cut.
Jessie attended Parliament House last month to receive her Australian team blazer. She's one of 17 brilliant young high school students representing Australia at the four UNESCO-sanctioned International Science Olympiads in Biology, Chemistry, Physics and Earth Science this year – all hosted in different countries.
The International Physics Olympiad (IPhO) began in Poland in 1967 and aims to test  the highest level of knowledge, critical thinking, problem solving, practices and skills in theoretical and experimental physics.
This year's competitors were challenged in their experimental exam with various optics and with finding electrical and thermal conductivities for different metals. The theory exam tested them on microwaves, a falling slinky and a thermoacoustic engine.
Pymble has produced its fair share of Olympians, with four Pymble students and graduates competing in the 2016 Summer Olympic Games in Rio, and we've also seen several previous students make it to the International Science Olympiads before.
"Pymble is committed to supporting girls to achieve in STEM at the highest level and Jessie is a shining example of the extraordinary heights reached by our Pymble students," says Dr Hadwen.