Pymble students make a splash with refugees
Monday 23 January, 2017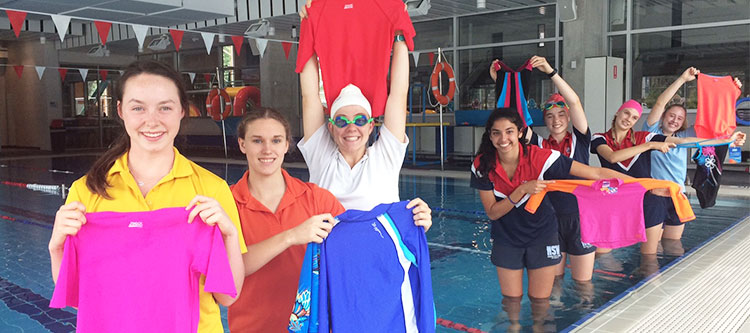 Our Year 10 students threw themselves into the deep end when they took on the challenge of teaching water safety skills to non-English speaking children.
The newly-arrived refugees from Syria, Afghanistan, Pakistan and a number of other countries had no swimming ability at all and were attending Chester Hill Intensive English Centre.
Faced with a substantial language barrier, the Pymble girls had to think outside the square in order to teach their young charges basic water safety skills and water confidence.
Each student worked one-on-one with a child during daily swimming sessions in the Braith Williams Aquatic and Fitness Centre in the Centenary Sports Precinct at Pymble over the course of one week. Students also spent time with the children out of the water, playing games and sharing lunch to strengthen relationships and to build mutual trust.
"We don't think twice about something as simple as floating, as it's a basic skill we take for granted," said Pymble student, India Thomson.
"For these girls, it was not natural at all and we had to demonstrate with actions, rather than words, that they could trust us to help them learn this skill."
Our students rejoiced to see the children grow their skills and confidence in the water. A highlight was watching one child progress from clinging to her student instructor on day one, to jumping off a diving platform into the diving pool at the end of the week. The week of lessons culminated in a group excursion to the Homebush Aquatic Centre to enjoy the water rides and slides.
This uniquely Australian Service Learning program is generously supported by Zoggs swimwear and accessories company, which has provided the swimwear, goggles and rash vests required by the students from Chester Hill IEC who have participated in the program for the past three years.