Pymble supports National Reconciliation Week
Thursday 7 June, 2018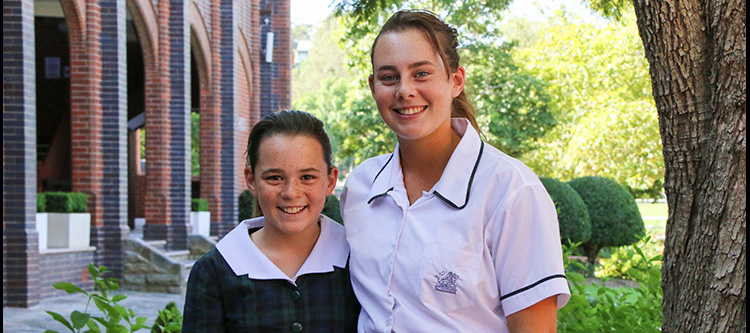 As a College committed to providing ongoing opportunities for Indigenous and non-indigenous students to live, learn, play and become future leaders, together, as equals, Pymble Ladies' College is a proud supporter of National Reconciliation Week.
The 2018 theme of 'Don't keep History a Mystery – Learn. Share. Grow', inspired students and staff to reflect, share stories and renew their commitment to reconciliation during assemblies, Chapel services and Connect Time activities.
Year 7 Boarder Indi-Jean Tishler (pictured above with her sister, Xhana) brought the topic close to home in her address to students in Chapel.
"Yaama Indi Tishler ngaya Gamilraay ngaya inaar.
"Hi, I'm Indi Tishler and I am a Gamilaraay woman.
"I am from a tribe called Kamilaroi. The Kamilaroi, also called the Gamilaraay, are an Indigenous Australian people whose lands extend from New South Wales to southern Queensland. They form one of the four largest Indigenous nations in Australia.
"Recently I watched a film called 'Rabbit Proof Fence'. This movie made me realise how lucky I am. If I was born 20 years earlier, I would have been taken away from my family. I don't know how I could ever do that. This made me not take my family for granted.
"The Stolen Generation was the children of Australian Aboriginal and Torres Strait Islander descent who were forcefully removed from their families by the Australian Federal and State government agencies and church missions. It started in 1910 and was still occurring in 1970, in a time where many of our parents were alive. Stolen Generation children were taught to reject their Indigenous heritage; their names were often changed, and they were forbidden to speak their traditional languages. Some children were adopted by non-indigenous families, others were sent to institutions where abuse, neglect and sexual assault were common.
"My ancestors are Kamilaroi people and were victims of the Stolen Generation. My Great Grandmother Bertha was one of 11 children and had a special hiding place to go to with her siblings when the inspectors came around looking for the children. This event in history has impacted the Indigenous communities as some parents could not go on living without their children, and some turned to drugs and alcohol. It tore many families apart. 'Sorry' does not justify what has happened … many lives have been affected throughout that time including mine and my family's.
"It is important now that we rebuild these bridges, accepting our past, but prepared to move forward as a nation, Indigenous and non-indigenous Australians together."
2018 represents the 11th year of the Indigenous Scholarship Program at Pymble.
The College also launched the inaugural Indigenous Round of sport on Saturday 16 June, commencing with a welcome ceremony on Gloucester Lawn.
Click here for more details about the Indigenous Round.