Pymble's child genius!
Thursday 22 November, 2018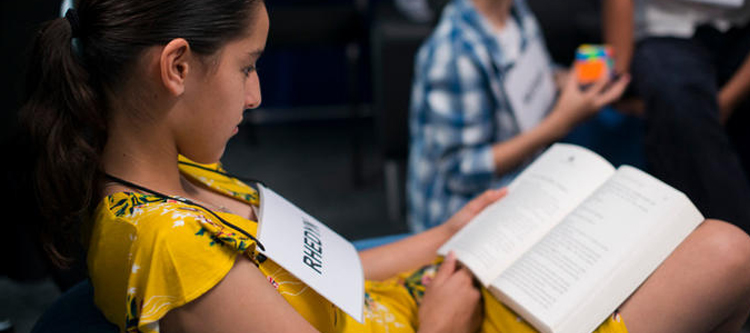 Congratulations to Pymble's Rhedyn Wong who came runner-up in the edge-of-the-seat grand final of Child Genius on SBS television.
Rhedyn, who is in Year 7, was one of 19 students selected from more than 700 applicants from across Australia to take part in this unique six-part documentary competition to find the country's brightest kids aged between 8 to 12 years.
The final episode was the culmination of 12 rounds of head-to-head competition that covered subjects including Science, Mathematics, Spelling, History, general knowledge, memorisation skills and future technology.
"The competition was extremely nerve-racking but after a few rounds, it was much easier to relax and concentrate on answering questions as I got more comfortable with the lights and cameras," said Rhedyn.
"During the final, I was definitely more nervous but also very grateful to have come that far. I wasn't expecting to go very far in the competition, let alone win, so I tried not to put too much pressure on myself during the competition."
Overseen by Australian Mensa – the local chapter of the largest and oldest high IQ society in the world – Child Genius also gave viewers a unique insight into the lives and families of these children.
Pymble's Principal, Mrs Vicki Waters, was not surprised by Rhedyn's fantastic result.
"Not only is Rhedyn involved in the two High Potential Learning programs for Year 7 students at the College, but she is also active in co-curricular sports as a member of the track and field team, which shows us that she has that great balance in her life.
"We believe that physical activity and balance actually enhances learning, so Rheydn is doing all the right things to continue her trajectory as a high potential learner," Mrs Waters said.
To qualify for Child Genius, Rhedyn and the other applicants took part in a strenuous audition process including an academic test set by Australian Mensa; the Raven's Non-verbal Matrices Test; and two separate memory-recall tests. The shortlisted applicants were also assessed by a child psychologist who, among other things, asked each child to complete a self-esteem test, and provided a written report on whether the child was sufficiently resilient to take part in the competition.
Away from the television studio and back at Pymble, Rhedyn reflected on the experience of taking part in Child Genius.
"The competition definitely taught me a lot about myself; it was an amazing experience that taught me how to study hard and effectively – skills I will continue to use for life," said Rhedyn.
"Although it wasn't full public speaking, the competition has allowed my confidence to grow in terms of public speaking.
"I'm really not sure what the next personal challenge is for me, perhaps taking up debating or another opportunity that comes along."