Pymble's Rugby Sevens Teams Tour Japan
Monday 21 October, 2019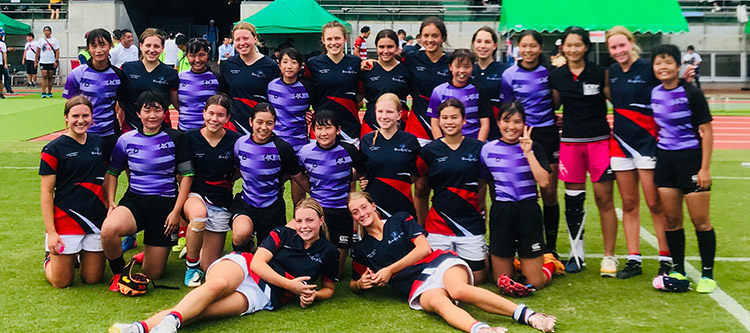 In the spring holidays, two Pymble Rugby Sevens teams (one Senior and one Junior) travelled to Japan. The experience was a wonderful opportunity for our players, on and off the field, with many lifelong memories being forged.
The touring party started the journey in Tokyo where the girls visited local food markets, the Meiji Jingu Shrine and then a Hedgehog Café. That afternoon, the Pymble girls had the privilege of watching the Wallabies final training session before playing their Rugby World Cup match against Wales. A massive thank you to Pymble parent, Kazuma Naito, for facilitating such an honour for our girls. The Wallabies players chatted to our team and stayed for autographs and plenty of selfies! The girls then watched the Wallabies play that weekend in the Rugby World Cup fixture against Wales at Tokyo Stadium.
In Kyoto, the girls dressed up in kimonos and toured the streets and shops of the city. A highlight of Kyoto was no doubt the many World Heritage listed cultural sites that the historic capital of Japan offered, as well as the amazing food on offer. The team saw the famous Whirlpool of Naruto, the Golden Pavilion and toured the city via an ancient railway train.
In Osaka, the girls were fortunate enough to watch their second Rugby World Cup fixture of Wales versus Fiji and walked the famous 'Thousand Golden Gates'. They also toured the local districts, tried deep-fried eel, climbed Osaka Castle and visited a bowling alley and game arcades.
In each of the three cities, our teams played fixtures against some highly skilled and determined opposition. The girls also travelled to regional Japan to face some of the very best school and representative sides in Japan. The Japanese teams were particularly impressive in their passing and catching skills as well as their high work rate and commitment to their structures. As the tour went along, all Pymble players improved and adapted their performances to start to disrupt the Japanese style of Rugby Sevens.
All the girls enjoyed being part of the first Pymble Rugby Sevens tour and the only Schoolgirls Rugby tour to Japan for the Rugby World Cup!