Rewarding Academic Challenge
Monday 21 September, 2020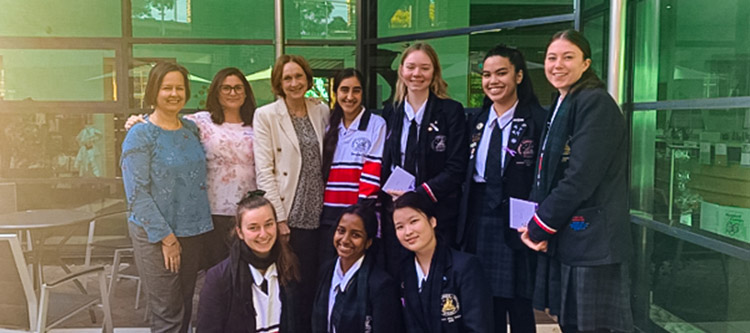 At the end of Term 3, the Year 12 English students came together to celebrate the completion of the English Extension 2 course. Students showcased their Major Works in a celebratory reading of key excerpts from their compositions.
The English Extension 2 course is a highly academic and rigorous course designed for students who enjoy self-directed writing, researching, developing concepts and independent voice and culminates in the creation of a polished composition.
Driven by personal passion and shaped by a deep understanding of literary theory, projects this year ranged in concept and form. Students considered topics such as cultural identity, generational trauma, digital innovation and its impact on our narrative landscape and chose to write in a myriad of forms from drama scripts, short stories, podcasting scripting and critical essays.
Following are some reflections by the girls who have undertaken this rigorous course:
The English Extension 2 Major Work process was a highly rewarding academic challenge, which I am very glad to have undertaken in my final year of school. Through my critical exploration of texts, I was able to extend upon my knowledge gained from English Advanced and Extension 1 to investigate an area of personal interest. I had the freedom to create and explore my own concept and develop my critical analytical skills to produce a Major Work which I was incredibly proud of. It was a worthwhile challenge! – Amelie Yee
I thoroughly enjoyed the process of constructing my Major Work for English Extension 2. I was able to develop and extend upon my areas of personal passion with rigorous academic research into literary theory, while honing my skills of writing and expression. I loved working with the podcast form, which provided the chance to explore a new medium of expression, creating meaning through soundscape, music, and voiceover, and enabled me to extend upon my passion for speech and performance. While the course was challenging, it was so rewarding to get the chance to produce a published work. – Annabelle Richens
The English Extension 2 Major Work is an extremely challenging yet rewarding experience as it provides you with the ability to develop a personal voice. Throughout my journey, I engaged and connected with my culture more than I have ever before, evaluating the intricate identity of Indian women to ascertain information that would assist the development of my creative non-fiction work. This process extended my skills as not only a student, but an individual within society as I began to recognise the importance of utilising my cultural roots as a platform to investigate a widely neglected and misunderstood discourse. – Kudrat Benepal
Developing my Major Work has taught me so much. Not only about how literary works are crafted, but also about myself as I reflect on my purpose as a writer. The English Extension 2 course has allowed me to explore my passions into the playwriting form and helped me grow as an artist. – Niduni Jayasinghe
The English Extension 2 course was unlike any course undertaken in my schooling life. I was surprised to find I discovered a lot about myself both as a student and as a young woman. The course pushed me to think broadly about my interests and passions and how I can harness them to instil change, which can benefit both me as an individual and my community. The opportunity to generate a creative piece in the form of a screenplay allowed me to work closely with a medium I am passionate about, while my topic encouraged me to form my own critiques and opinions on issues of poverty and economic disparity. Through this, the course proved to be very beneficial towards developing skills and understanding about myself which I intend to carry forward into my future academic endeavours. – Stephanie Volos
Undertaking the Extension 2 course was truly the highlight of an otherwise unprecedented HSC year. It kept me grounded during quarantine, gave me joy upon submission, and above all, compelled me to consider the way in which my short story adds to the existing field of literature conceived by young Australian authors. The process of drafting, revising and editing was in turns didactic and rewarding – enabling me to apply a greater breadth of theoretical knowledge to my studies in English Advanced and English Extension 1. Through the creation of my Major Work, I have acquired skills that will no doubt, serve me well as I look forward to undertaking similar research projects in my tertiary studies at university. – Viveca Tang
The English Extension 2 course, in retrospect, has not only been an enriching experience, but also invaluable in strengthening both creative and analytical skills for other English units. Given the liberty to decide my area of interest for the Major, I was able to explore sophisticated topics, specifically philosophy, that gave me a taste of potential studies I could undertake in university. Whilst the course can be demanding, the completion of the Major Work is one of my proudest achievements and I recommend the course to all students who are passionate about English. – Breanna Nicholls
We are extremely proud of the accomplishments of each of our Extension 2 students and we wish the girls every success in the future. We hope they will continue to research, compose and perhaps one day be published.