Robotics in COVID-Times
Wednesday 11 November, 2020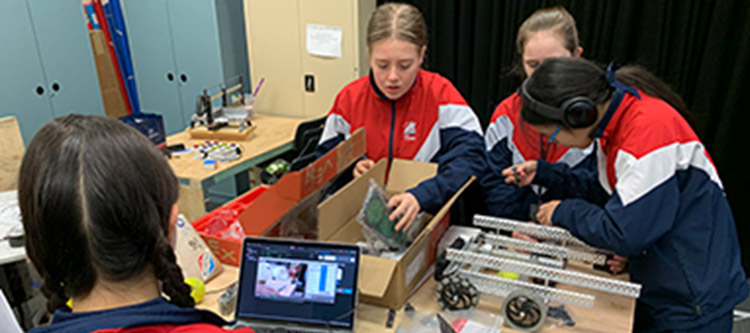 Like many events in 2020, Robotics competitions have taken a new form. Last term, 14 Pymble VEX EDR teams (Years 7 and 8) and ten VEX IQ teams (Years 5 and 6) competed in a remote, skills-only event where students' engineering and programming skills were tested. In VEX EDR, The Tech Teacups, consisting of Amelie Muir, Sabrina Rolinek, and Isabelle Huang, Year 8, came out on top for Pymble, qualified for Nationals, finished third and won the Design Award.
Our Juniors competed for the first time in the VEX IQ competition and finished fourth. The team Pymble TBD, comprised of Matilda Ma-Conis, Penelope Danzinger, Audrey Bishop, Year 6, and Ella-Rose Wu, Year 5, took this honour with some skilled driving by Matilda who managed to steer and control the team's robot into stacking two triple-stacks, the only school team in NSW to complete such a feat. As a result, they were the highest ranked Australian School team and qualified for Nationals later in the year.
Pymble Alpha Ninja's team was an honourable mention, with Emily Yu, Year 5, in her first year displaying her coding prowess earning the second equal highest autonomous skills points of the day.
Pymble Puffins Ruhani Surana and Anna Le, Year 6, won the Excellence Award for their engineering detail, thereby qualifying for Nationals and impressing the judges with their engineering discipline. Iris Li, Alissa Xue, Alice Mao, Mia Yong and Michelle Pan, Year 6, of Pymble Procrastinators, despite dealing with some troubles with executing their design, won the Judges Award for their all-round impressive approach to the competition. They managed to persist with their design, make it work and compete well with little pre-match practice.
For our Seniors in VEX EDR, global competitors participated with one of the top five ranked teams in the world from the USA competed against Pymble, Barker, Loreto Normanhurst and Knox. After an exceptional year last year for Pymble, the competition ramped up and was fiercer than ever. The Tech Teacups were Pymble's top-ranking team in this contest, with an impressive score of points in both driver and programming skills matches. Their robot design won the Design Award, with great attention to detail via a thorough design, engineering and programming approach. Their robot skills match placed them third in the skills rankings, qualifying them for Nationals.
Notable mention must go to Pymble Wooden Horse Ang-Ya Koo, Amy Zhang, Sophia Chang and Tarini Malhotra, Year 7, who in their first year of competition almost made the final round.
Congratulations to all the girls for their efforts!