Rowing on the Yarra
Friday 13 December, 2019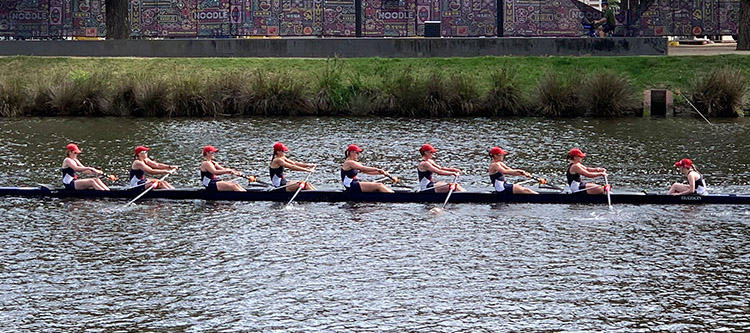 On Friday 22 November, 28 Pymble girls from Years 9, 10 and 11 flew to Melbourne to compete against the best rowing schools in Victoria and South Australia in a regatta known as the Melbourne Head. This is a 3.5 kilometre time trial that weaves through Melbourne's picturesque CBD along the Yarra River.
Competition was extremely tight, with mere fractions of a second separating several of the crews, which made for exciting racing! We raced three eights, our Senior First and Second Eights, plus a Third Eight comprised of four senior rowers and four intermediate squad rowers with an intermediate coxswain. In a highly competitive field, the First Eight raced strongly, finishing in fifth place just eight seconds behind the eventual winners (MLC Kew). The Second Eight fared slightly better, finishing in fourth place and the Third Eight won their category in fine style by more than 27 seconds – this was a fabulous performance by a crew that only started training together in the week leading up to the tour!
In addition to the eights, our girls raced in other boat categories later in the day. Highlights from the second batch of races include a third place and a fourth place for the members of the First Eight, who were racing in two quad sculls. Members of the Second Eight also performed strongly, finishing in the top third of the field in their division of the quad sculls, as did the Third Eight members in a quad scull and a four.
The tour gave our crews the opportunity to race against strong opposition in a unique format and to experience rowing in another part of Australia. The girls were wonderful ambassadors for the College, and we were extremely proud of the way that they carried themselves both on and off the water. Thank you to all of the parents who made the trip south to support the crews, it was great to have such a large group of supporters behind the girls.