Sportswomen's Awards Night
Wednesday 18 November, 2020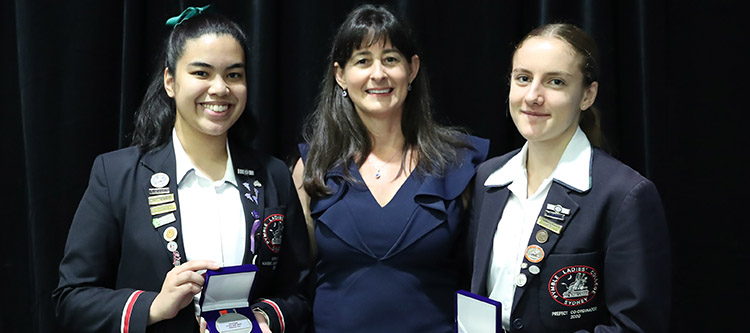 On Friday 6 November, the College honoured the achievements of our talented athletes from Years 7 to 12 at the Sportswomen's annual Awards Night held in the College gymnasium. We were fortunate to have three-time Olympian and Council member Mr Chris Fydler OAM as the special guest speaker who shared his insights on success in sport.
The dinner celebrates the achievements of our students and teams and gives due regard to the College values which these awardees exemplify. Awards are a way to encourage good performance and instil competitive spirit. Sport at Pymble provides a platform for girls to be challenged, to achieve and grow, and this awards dinner is designed to recognise those who compete at the highest level in their chosen disciplines.
Thank you to the Awards Committee of Mrs Katie Edwards, Mr Edwards Elwood-Hall, Mr Simon Pennington, Ms Skye Halliday, Mrs Katie White, Mrs Kate Irvine and Mrs Monique Zahra for their work behind the scenes to ensure the night was a huge success.
We would like to thank our parents for the support of their exceptional daughters and for their encouragement throughout the year.
Congratulations to all of the award winners!
Sportsgirls of the Year 2020
Amelie Yee and Imogen Gardiner
AOC Change-Maker Leadership Award
Ashlie Edwards and Mikayla Zahirovic
All-rounder of the Year
Year 7 – Tessa Newitt
Year 8 – Amber Halliday
Year 9 – Jessica Colbran
Year 10 – Cayla Phillips
Year 11 – Shivani Mehta
Year 12 – Ashlie Edwards
Team of the Year
Senior First AFL Team – Emily Bannister, Laura Papworth, Louisa Mitchell, Shivani Mehta, Abbey Lowe, Alexandria Johnson, Amy Bonthorne, Ashley James, Ashlie Edwards, Keely Rock, Summer Hall, Bo Burton, Gemma Casiglia, Rose Tate, Grace MacDonald, Tara Watson, Tess Orton, Brooke Laurie and Jessica Saunders.
Australian Representatives
Shennei Barber – Acrobatic Gymnastics
Sophie Watson – Acrobatic Gymnastics
Kennedy Cooper – Diving
Emily Pearson – Diving
Alyssa Yee – Fencing
Amelie Yee – Fencing
Scarlet Thomas – Football
Olivia Williams – Sailing
Sara Bruce – Sailing
Kyra Wheatley – Snow Sports