Students meet His Royal Highness Prince Edward, the Earl of Wessex
Wednesday 18 September, 2019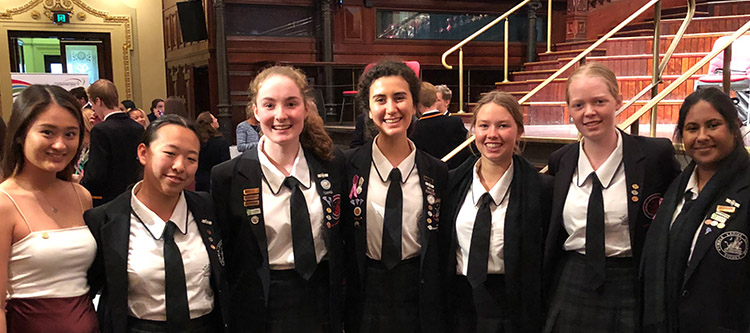 On Friday 13 September, seven Pymble girls attended the first National Gold Award Ceremony to receive their Gold Duke of Edinburgh's Award. This was the largest Gold Award Ceremony to occur outside the United Kingdom. This special occasion marked the 60th Anniversary of the International Duke of Edinburgh's Award with almost 400 young people from Australia and their 1,100 supporters (Award Leaders, family members, Duke of Edinburgh Staff, etc.) coming together at Sydney's Town Hall to receive their Gold Awards from His Royal Highness The Prince Edward, Earl of Wessex KG GCVO.
In attendance and circulating with the Awardees during the afternoon event were 17 incredible Australian role models including Layne Beachley AO, Dawn Fraser, Eddie Woo, David Campbell OAM, Naomi Simson, Kirk Pengilly, Indira Naidoo, Deborah Thomas, Marc Fennell, Jeff McMullen, Janine Perrett, Graham Ross VMM, Jayne Azzopardi, Jack Thompson AM, Jeff Loy, Dan Illic, and Jacinta Tynan.
Congratulations to the following girls for achieving their Gold Duke of Edinburgh's Award:
Vicky Huang (Year 12, 2018 Leaver)
Chloe Shang (Year 12)
Georgina Sargent (Year 12)
Isabella Natale (Year 12)
Eleanor Buchanan (Year 11)
Rebecca Jones (Year 12)
Ayesha Farook (Year 12)
Sally Oslington (Year 12)
Lauren Faahan-Smith (Year 12, 2018 Leaver)
"The Gold Award Ceremony was amazing! It was fantastic to see so many Awardees in one place, from all across the country, with many girls catching up with friends they had made across the Award. The highlight was definitely meeting HRH Prince Edward, Earl of Wessex, who visited each group and asked us about our challenges, and what we enjoyed the most about the Award," said Georgina Sargent, our Duke of Edinburgh Captain.
The Today Show also featured the girls meeting HRH Prince Edward, Earl of Wessex and their host David Campbell OAM during the Ceremony.