Valentina – the Robot
Thursday 23 May, 2019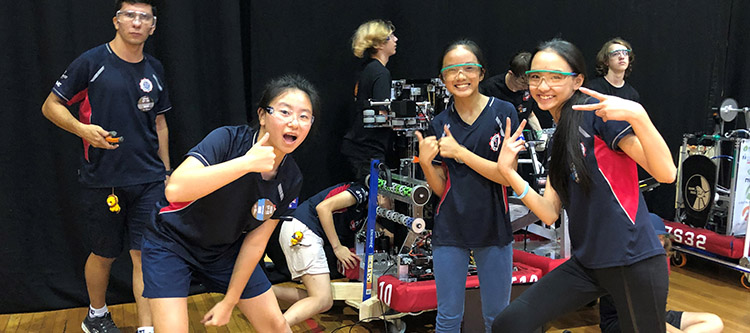 Our Pymble Pride Robotics team competed in two Australian Regional FIRST Robotics competitions at the end of Term 1. The competition was tough, but the girls rose to the challenge with their exceptionally capable, reliable and robust robot named 'Valentina'. This robot could extend to precisely deliver balls and hatch panels into rocket bays up to seven feet high and climb a step 40-centimetres high. After a superb few days of qualification matches at the Southern Cross Regional, the team placed ninth out of 36 international teams. They made it through to the semi-finals of this competition as part of the second seeded alliance before being knocked out.
The team then moved on to the South Pacific Regionals, where after ranking first for the majority of the event, they finally ended up as the third ranked team out of the huge field of 66 international teams. Again, the team made it to the semi-finals of this event, this time as Alliance Captain with their alliance partners from Project Bucephalus (Team 5985) and Shenzen Dadalele (Team 5522). The alliance lost the semi-finals, after a very tough round of matches, to the eventual winners of the South Pacific Regional. We were honoured to receive the Industrial Design Award, sponsored by General Motors, for the industrial quality of our robot's engineering design, reliability and robustness.
With our maturing student leaders sharing their experience by mentoring the record number of new team members, we can't wait for the 2020 FIRST Robotics Competition!