Young Entrepreneurs Society Final Pitch Night
Friday 31 July, 2020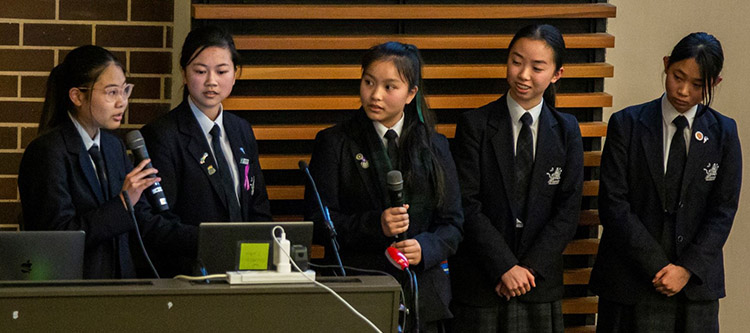 Pymble's Young Entrepreneurs Society (YES) held its Final Pitch Night recently to celebrate the achievements our aspiring entrepreneurs have made over three terms. Not only was the night awe-inspiring and thought-provoking, it was also very rewarding with valuable insights from our two judges: Ms Sangeeta Venkatesan, the Chairman of FairVine Super and CEO of Applegrove Capital, and Ms Yuki Thomas.
Congratulations to the following teams that made it to the Final Pitch and received Encouragement Awards:
FOODA – Nina Baikie (Year 8) and Hannah Ford (Year 8): FOODA is an app designed to eliminate food wastage by converting existing ingredients from your kitchen into easy, affordable recipes.
 Converso – Joy Ye (Year 8), Jas Li (Year 8), Amelie Matthews (Year 8) and Mulan Xu (Year 8): Converso is an online platform designed to help people to learn a foreign language in a fun, interactive and effective way.
An Organic Change – Annalise Martin (Year 9) and Nilan Esmaeili (Year 9): An Organic Change is an organisation that upcycles furniture into functional products, highlighting the issue of plastic waste.
 Miracle Milkshakes – Penelope Girdis (Year 9) and Miki Culver (Year 9): pitched an idea to bring back unique, old-fashioned milkshake carts, catering to dietary needs.
Rice UP – Faye Chang (Year 10), Chole Hoang (Year 10), Jenhui Lau (Year 10), Isabelle Ho (Year 10) and Caitlyn Kim (Year 10): received the Innovation Award. Their pitch took the form of an app and website, with the aim of bringing Asian cultures, cuisine, stories and people together.
Thanks must go to the YES student leadership team who worked tirelessly in supporting the YES girls and making the Final Pitch Night a success. Thanks also go to the Geography, Business and Economics (GBE) Department, especially Economics Co-ordinator Mrs Wright, for their unwavering support of YES.