Pymble Institute
Grow, connect and engage through research.
We enable Pymble students and staff to learn about, participate in and conduct research by building opportunities and skills in the world of research. Our focus is on research which positively impacts the lives of girls and women.
We welcome connections with academics, universities and other research institutions.
Pymble's research activities include:
an ethics committee with student, staff and external expert membership
annual student research journal, Perspective
bi-annual research and innovation journal, Illuminate
annual research conference for Pymble staff, teachers from other schools and academics to explore educational research
student research conference – run by and for students
research training for students and staff
co-designed research projects with academic partners
Read more about the Pymble Institute and the ways our projects connect and grow our students, staff and community in this brochure.
Publications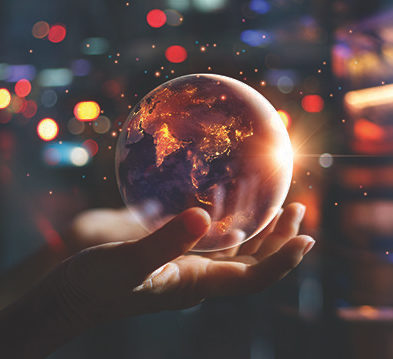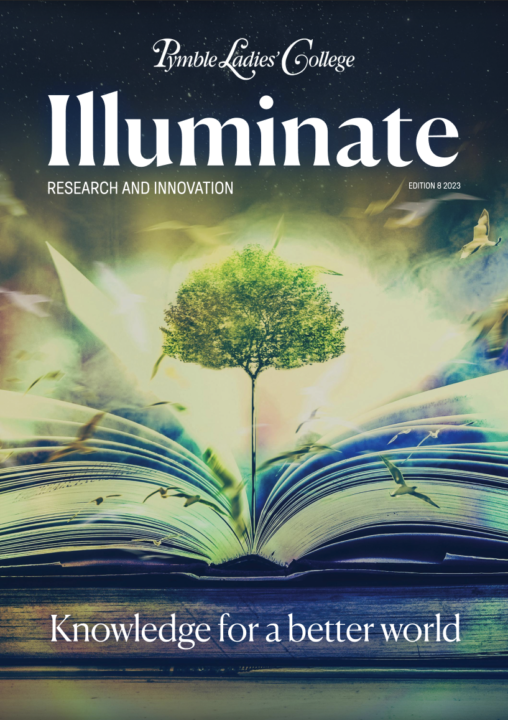 Illuminate
This journal shines the light on Pymble teachers as designers and innovators of education, and the creative, connected and engaged practice in our community of learners. The articles will take readers into classrooms from Kindergarten in the Preparatory School to Year 12 in the Senior School, from Drama to Science to the Library. We invite you to enjoy this insight into the depth and diversity of innovation in our learning environments and our commitment to sustainable capacity building.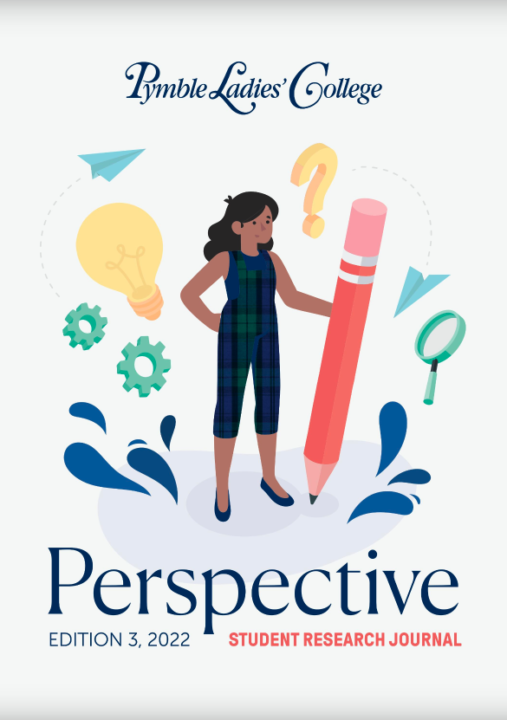 Perspective Student Research Journal
Edition 1, 2020: This edition showcases the work of several of our high-achieving Year 12 girls from 2020.
Edition 2, 2021: This edition extends beyond Higher School Certificate Extension course essays to a collection of student research from other grades.
Edition 3, 2022: The journal reflects Pymble's commitment to value and highlight student voice, and includes a range of dynamic student articles and essays that explore many fields of scholarly endeavour.
Events
UPCOMING EVENTS
The Education Journal Club (EJC) is hosting an evening with the Pymble Institute Research Fellow, Dr Debra Dank. Join us for a discussion with Debra about her Stella Prize-shortlisted book, We Come With This Place, to learn more about researching with First Nations people, especially in the field of education. Debra is a Gudanji/Wakaja woman, with her homeland being the Barkly Tablelands in the Northern Territory. She has dedicated her life to education through primary, secondary and tertiary classrooms, as well as consultancy and leadership roles. Debra achieved her PhD in semiotics and narrative therapy from Deakin University where she explored her interests in how narrative is practiced in Aboriginal and non-Aboriginal communities in Australia. Join colleagues from a range of schools and universities at the EJC meeting at Pymble Ladies' College, situated on sacred Durramurragal Land, on Tuesday 31 October at 5.00pm.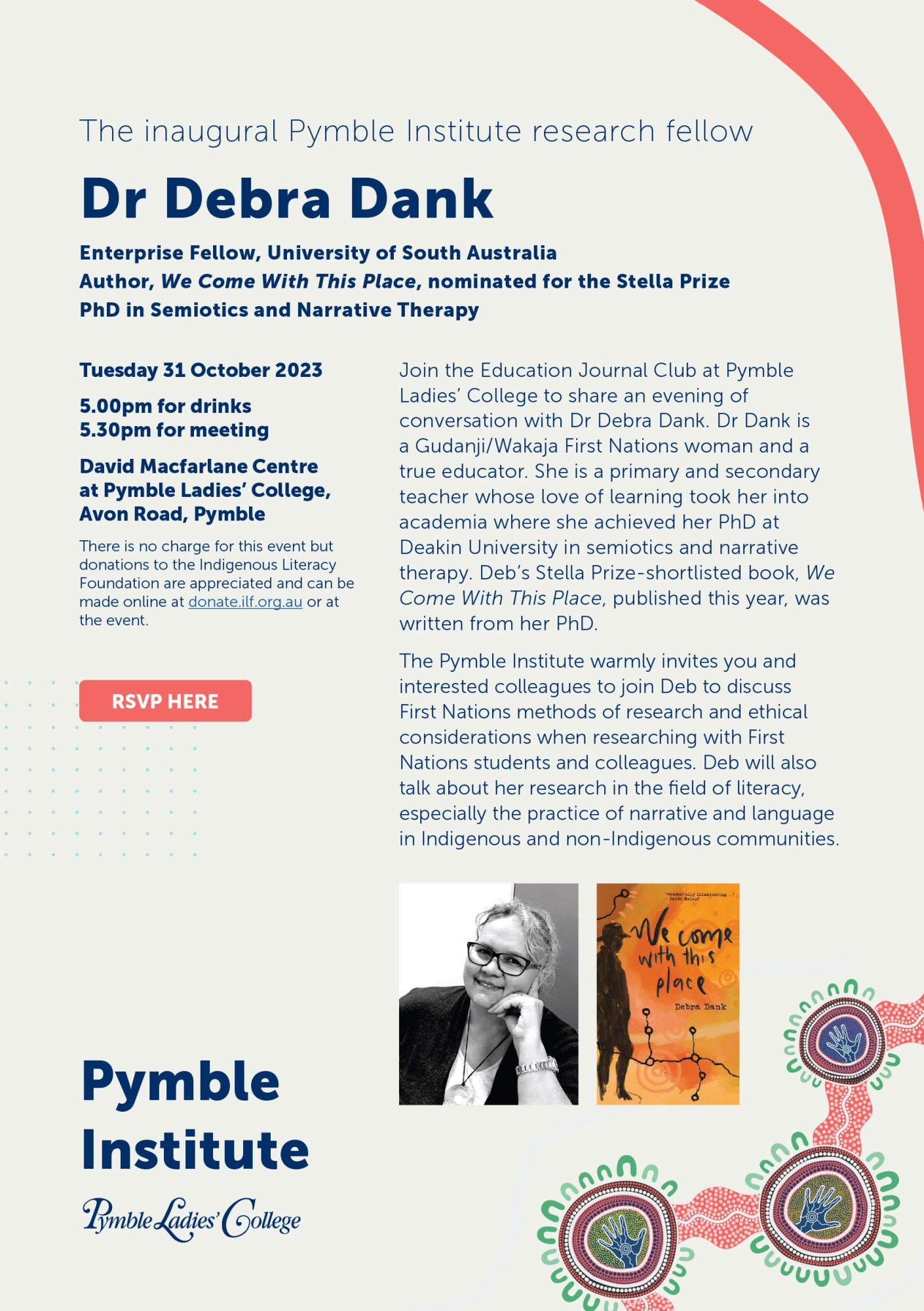 PAST EVENTS
Research Conversations
The Research Conversations afternoon in August 2023 was a friendly get-together for those interested in educational research. Four Pymble staff presented their research to an audience of colleagues, parents and staff from other schools. Kate Giles, Lead Co-ordinator K-3 spoke about the International Coalition of Girls' Schools Global Action Research Collaboration, of which she is a Fellow; Victoria Adamovich, Research Assistant and Junior School EAL/D Teacher spoke about her Master of Research (UTS) project in LBOTE student wellbeing; Thomasina Buchner, K-6 Classroom Teacher shared her Honours project which brought together mathematics and dance; and Mariel Lombard, Head of Year 9 reflected on her PhD journey thus far as she explores teacher wellbeing amongst those supporting students. The afternoon was inspiring and thought provoking and showed howPymble staff are bringing research, teaching, learning and leading together in their everyday practice.
Student Research Conference 2023
Pymble's second Student Research Conference was held in May with two keynote speakers and fourteen student presenters. The conference theme, Mindsets in Research, was designed by student convenor, Lucy Clark (Year 12). It invited participants to consider ways to cultivate the type of mindset needed for research and how to build skills to support it. We saw many examples of curiosity, clear thinking and problem solving across the conference. In addition to the speakers, we were honoured to share the afternoon with an enthusiastic and supportive audience of students, parents and teachers.
Student Research Conference 2022
Our Pymble Institute proudly hosted its Inaugural Pymble Student Research Conference: 'Researching students? Students as researchers and students being researched.'
This student-designed and student-led conference brought together students from several schools to learn about research from those immersed in their fields, with the aim of encouraging students to participate in research.
This event showcased research through a student lens, bringing together Years 5 to 12 students, teachers, Education undergraduates, parents, professors and school leaders; all enthused to learn more about research.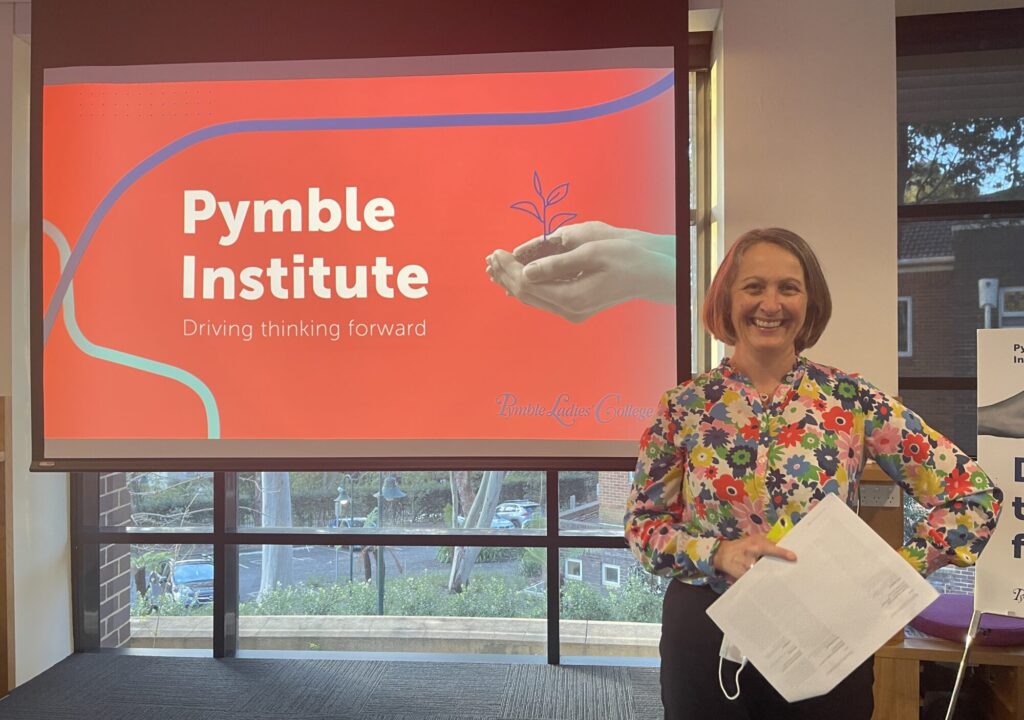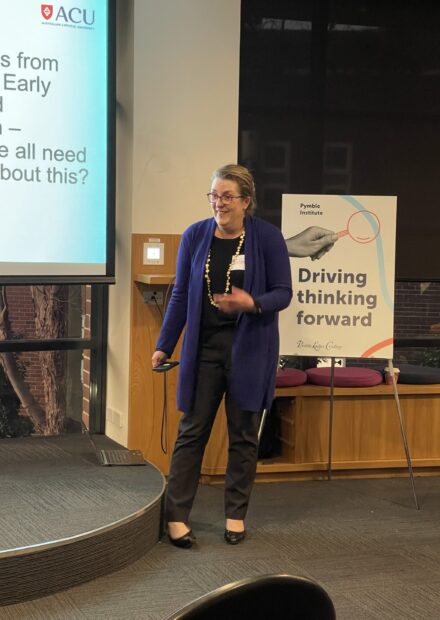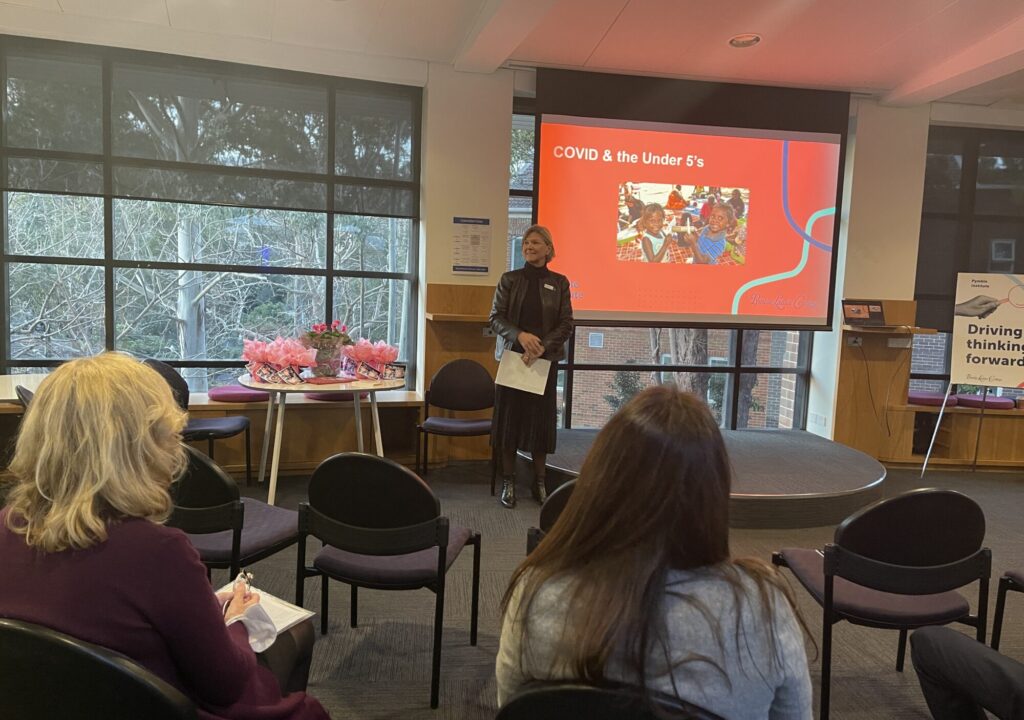 Pymble Research Conference 2022 – Conversations about research
The Pymble Institute hosted its third annual Research Conference, 'Conversations about Research', where Pymble staff delivered presentations on research based in their teaching practice, their PhD and Masters projects in progress, and research investigations from a new professional learning opportunity, the Bright Field mentoring program.
Keynote Speaker and College Board member, Dr Kate Highfield opened the event with a discussion on the relevance of early childhood education in the broader edusphere. Dr Highfield emphasised how the first 2,000 days (or first five years) of a child's life is the "golden zone of possibility" when synaptic pathways are established as a base for future learning and outcomes in education, health and wellbeing.
Thank you to Dr Highfield and our Pymble staff who presented at the conference. The research and ideas shared on the day are through lines for teaching and learning across K-12 at Pymble as well as influential in the development of our own Early Learning Centre.
Educational Journal Club
Join us for the Education Journal Club (EJC) in 2023.
This is a friendly group of teachers and university researchers who enjoy catching up to share and discuss journal articles about education. We meet a few times each term, in a mixture of online and face to face modes. Members select an education-related journal and read an article from their chosen publication which they speak to at the meeting.
The EJC is an ideal way to connect with like-minded educators – those looking to continually expand and deepen their knowledge and experience. The group gives support to those undertaking Masters and PhDs in Education through encouraging and collegial discussion, and it provides an authentic avenue for university academics to connect with K-12 teachers.
Contact Sarah or Victoria for more information via pymbleinstitute@pymblelc.nsw.edu.au
Visit the Pymble Institute
Come and visit the Pymble Institute, meet the team and see our work in action. We welcome visits from local, interstate and international educators. Contact us at pymbleinstitute@pymblelc.nsw.edu.au to arrange a tour of our centre and to enjoy seeing beautiful Pymble Ladies' College during a school day.
Find out more
For further information about research opportunities or partnerships supporting innovation, contact: