Pymble Swimming
State-of-the-art aquatic and fitness centre.
Learning to Swim is an important part of growing up in Australia. We are surrounded by water whether it be at the beach, backyard pool or local waterways. Learning to swim is a life skill and one we should all invest in.
We also know via research conducted by Griffith University that swimming lessons for your child is an investment in their overall health and wellbeing as well as shown to develop social, emotional, physical and intellectual capital more quickly than those that do not participate in swimming lessons.
With drowning being the leading cause of death for children aged under four years of age, teaching your child to swim from 6 months of age could literally save their life.
If you're looking for world class swimming facilities, with industry qualified, caring and nurturing swimming staff for your child, Pymble Swimming has it all. Located on the beautiful grounds of Pymble Ladies' College, the facility has been designed with a world class program pool and FINA level 50m competition pool for those progressing to Squad levels.
Facilities
The world-class facilities at Pymble Swimming will ensure that both you and your child's experience is one that is easy and enjoyable. We offer:
Onsite parking
Easy access to the pool via a lift
Warm water and air, essential for learning to swim
Exceptionally clean and well-resourced changing facilities
On deck showers
ENROL TODAY! Your first lesson at Pymble Swimming is free. Come and experience our world class facilities today by calling +61 2 9855 7460 or email swimming@pymblelc.nsw.edu.au
April holiday dates and important information
LEARN TO SWIM (LTS)
Last lesson for LTS Term 1, 2021
Thursday 1 April
Holiday Program
Week 1: 6 April to 9 April
Week 2: 12 April to 16 April
SQUADS
Last session for Squads Term 1, 2021
Wednesday 31 March
Week 1 (Pride Squad only)
Week 2 (All Squads)
Monday 5 April to Saturday 10 April
Monday 12 April to Friday 16 April
HOLIDAY OFFICE HOURS
8.45am to 4.00pm
LEARN TO SWIM AND SQUD PROGRAM TERM 2 COMMENCES
Tuesday 20 April
Learn to Swim Holiday Program
Pymble Swimming offers intensive swim programs during each school holiday.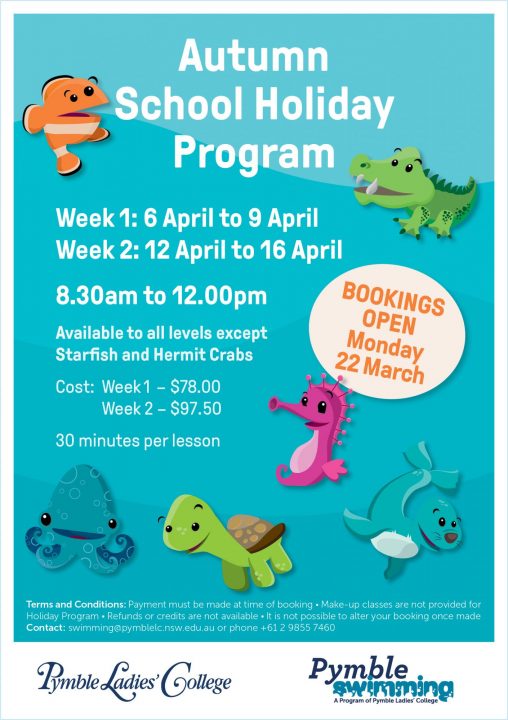 Autumn School Holiday Program
Week 1: 6 April to 9 April 2021
Week 2: 12 April to 16 April 2021
8:30am to 12:00pm
Available to all levels except
Starfish & Hermit Crabs
Terms and conditions: Payment must be made at the time of booking. Make-up classes are not provided for Holiday Program. Refunds or credits are not available. It is not possible to alter your booking once made.
Contact Information
Our Location
Pymble Ladies' College
Avon Road
Pymble 2073
(Entry via Gate 3)
Learn to Swim hours
Monday, Wednesday and Friday from 9.00am to 12.00pm
Every afternoon from 3.00pm to 6.00pm
Saturday from 8.00am to 12.00pm
CONTACT pymble swimming