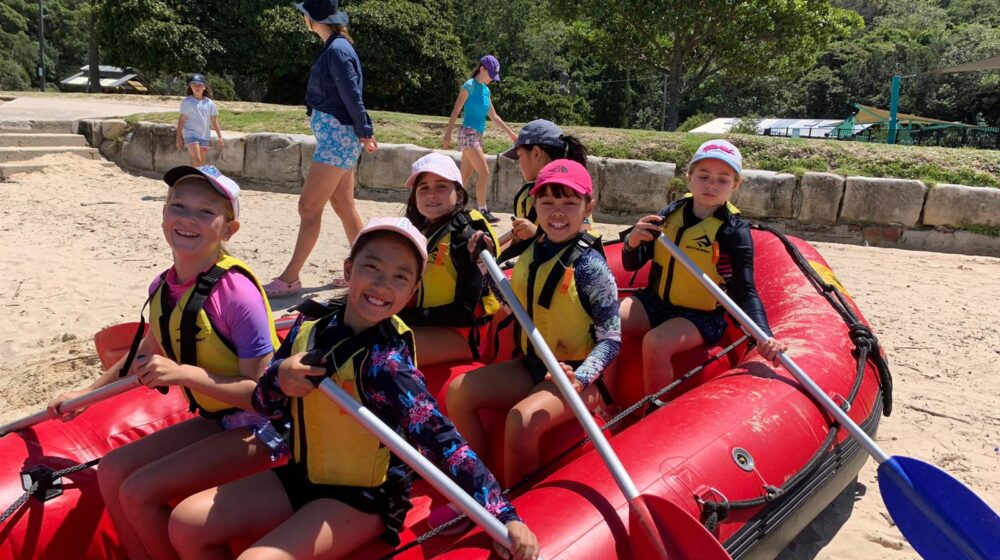 Outdoor Education Programs Give our Girls a Chance to Have a Go
It was beyond exciting to see our girls in Years 3 and 5 piling out of the buses at Vision Valley on Monday 15 February, ready to tackle all the fun, games and challenges of their bespoke Outdoor Education Programs (OEP).
These girls will go down in history as the first Pymble girls to stay overnight at our incredible new outdoor education facility in Arcadia, which is approximately 40 minutes north west of our campus. The two year groups had an aligned program, sharing mealtimes and a number of experiences, including a vertical leadership/ team-building activity Year 5 facilitated for their younger 'sisters' in Year 3, as well as archery, knot tying, orienteering, a Survivor-style team challenge, overnight camping, stove cooking and turns on the giant waterslide.
OEPs at Pymble intentionally place students in situations where they are challenged to push their boundaries, build personal attributes and life skills, and learn as much as they do from setbacks and failure as they do from success.
During the same week, our Year 4 girls spent two nights away at two different sites –Chowder Bay and Cockatoo Island. Year 6 meanwhile enjoyed a beach-based program in the Illawarra region, trekking from beach to beach on the glorious nine-kilometre coastal walk and spending each of their three nights away at a different site.
Of all school subjects, Outdoor Education is considered one of the most effective vehicles for learning:
self-reliance, resilience, interdependence and leadership
the development of an adventurous spirit
how to manage personal risks
safe journeys in nature, and deeper human-nature relationships
the value of life-long recreation in the outdoors for enjoyment, health and wellbeing
personal and social skills and capabilities.
Our girls have learned – in a most memorable way – that discovery happens, goals are reached, and change occurs when you just have a go.