Sport
Pymble sets the standard in girls' school sporting prowess.
Year after year, and in numerous sports, activities and age groups, Pymble students achieve truly outstanding results while conducting themselves with grace and fairness.
Regardless of their experience or performance level, our students have the opportunity to participate, to challenge themselves physically and to achieve their personal bests. The College's outstanding facilities and dedicated coaching staff will ensure that no matter where their sporting interests lie, students' enthusiasm, passion and dedication will be wholeheartedly supported.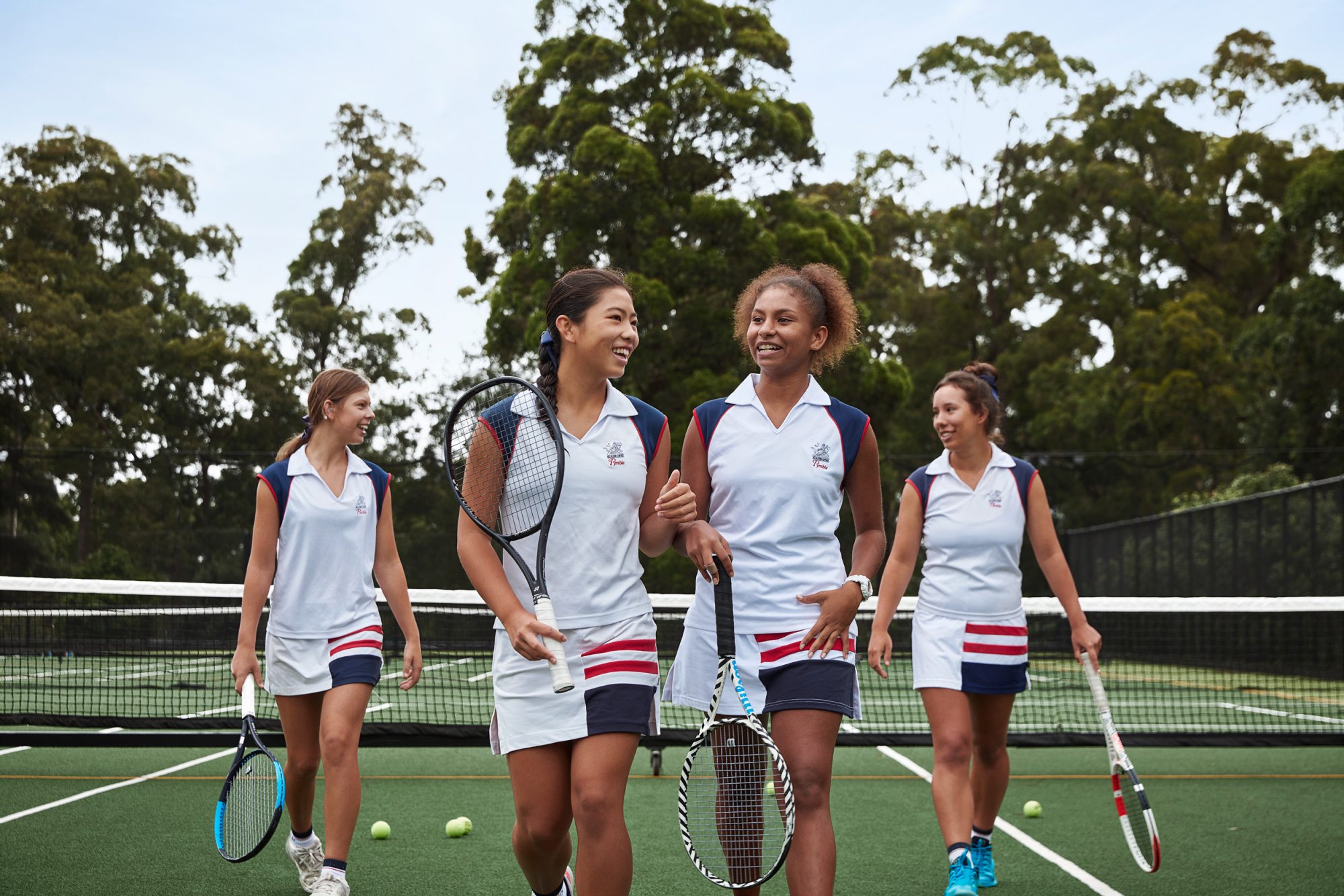 We have some of the sporting industries best coaches and world-class sporting facilities, including a state-of-the-art indoor aquatic centre for swimming, diving and water polo, a fully equipped gymnastics centre, a synthetic hockey field, recently resurfaced multipurpose courts and various ovals.
Sports Offered
Artistic Gymnastics
Athletics
Diving
Learn to Play Sports
Rhythmic Gymnastics
Snow Sports
Swimming (Learn to Swim/Squads)
Tennis
Year 2 Saturday sports
Artistic Gymnastics
Athletics
Australian Rules Football (AFL)
Badminton
Basketball
Cricket
Cross Country Skiing and Biathalon
Diving
Equestrian
Fencing
Football (Soccer)
Health and Fitness
Hockey (Minkey)
Mountain Biking
Netball
Rhythmic Gymnastics
Snow Sports
Swimming
Taekwondo
Tennis
Touch Football
Water Polo/Flippa Ball
Artistic Gymnastics
Athletics and Cross Country
Australian Rules Football (AFL)
Badminton
Basketball
Cricket
Cross Country Skiing and Biathlon
Diving
Equestrian
Fencing
Football (Soccer)
Futsal
Golf
Health and Fitness
Hockey
Mountain Biking
Netball
Orienteering
Rhythmic Gymnastics
Rowing
Rugby Sevens
Sailing
Snow Sports
Softball
Surfing
Swimming
Taekwondo
Tennis
Touch Football
Triathlon
Volleyball
Water Polo
At Pymble, we offer two distinct types of sports:
Non-Saturday Sports
A wide range of non-Saturday Sports are offered each term, with competitive options available in most programs. These sports have set sessions either before school, during lunch, or after school during the week, with a limited number of programs also offering Saturday morning sessions (Diving, Competitive Artistic Gymnastics, Sailing and Swimming).
Saturday Sports
Pymble has an extensive weekend interschool competitive sport program, with most played through the Independent Girls Schools' Sports Association (IGSSA), of which Pymble is a member. While it is not compulsory, we strongly encourage students to participate in Saturday Sport, regardless of their level of ability or experience, to enrich their overall experience at Pymble. Our experienced coaches guide students through the rules and skills of their chosen sport during twice-weekly training sessions held before or after school.
Pymble Elite Sports Women Program
The College also offers the Pymble Elite Sportswomen's Program (PESP) to talented athletes in Years 7 to 12 across all sports. The program is designed to foster the development of these athletes through assistance and motivation and to help maintain a balance between high-level sporting commitments and academic studies.
The program was established in 2007 following the success of ex-Pymble student and dual-international athlete Ellyse Perry.
Recognising the need to support students who compete at elite levels to meet academic demands, the program aims to identify, nurture, recognise and support Pymble students who have unique sporting talents as part of the philosophy of a "personalised education".
Students within the program find support through a range of channels, be it the Athlete Mentoring program where they have access to a network of older elite sportswomen, or through specialist sessions with sports nutritionists, sports psychologists or specialist field testing.
All athletes are musculoskeletally screened prior to entry into the program by qualified physiotherapists. This information is then used to design a personalised strength and conditioning program with a focus on injury prevention and management. Our girls are consistently assisted with maintaining a schedule that balances training sessions, competitions, specialist programs and academic studies.
For further information on PESP please contact Skye Halliday on shalliday@pymblelc.nsw.edu.au