Middle School
Pymble's Middle School provides girls in Years 7 and 8 with dynamic and inspiring learning experiences and the well-being support appropriate for this unique stage of their lives.
A comprehensive academic, Co-curricular and Mind Body Spirit program supports the intellectual, emotional, social and spiritual growth of every girl.
Staff in the Middle School work collaboratively to provide the ideal blend of structure and choice that allows young women to flourish; offering them a supportive environment where they feel challenged enough to grow, yet confident enough to try new approaches. The teachers encourage students to achieve their personal best and to develop into compassionate and resilient young women, capable of realising their full potential.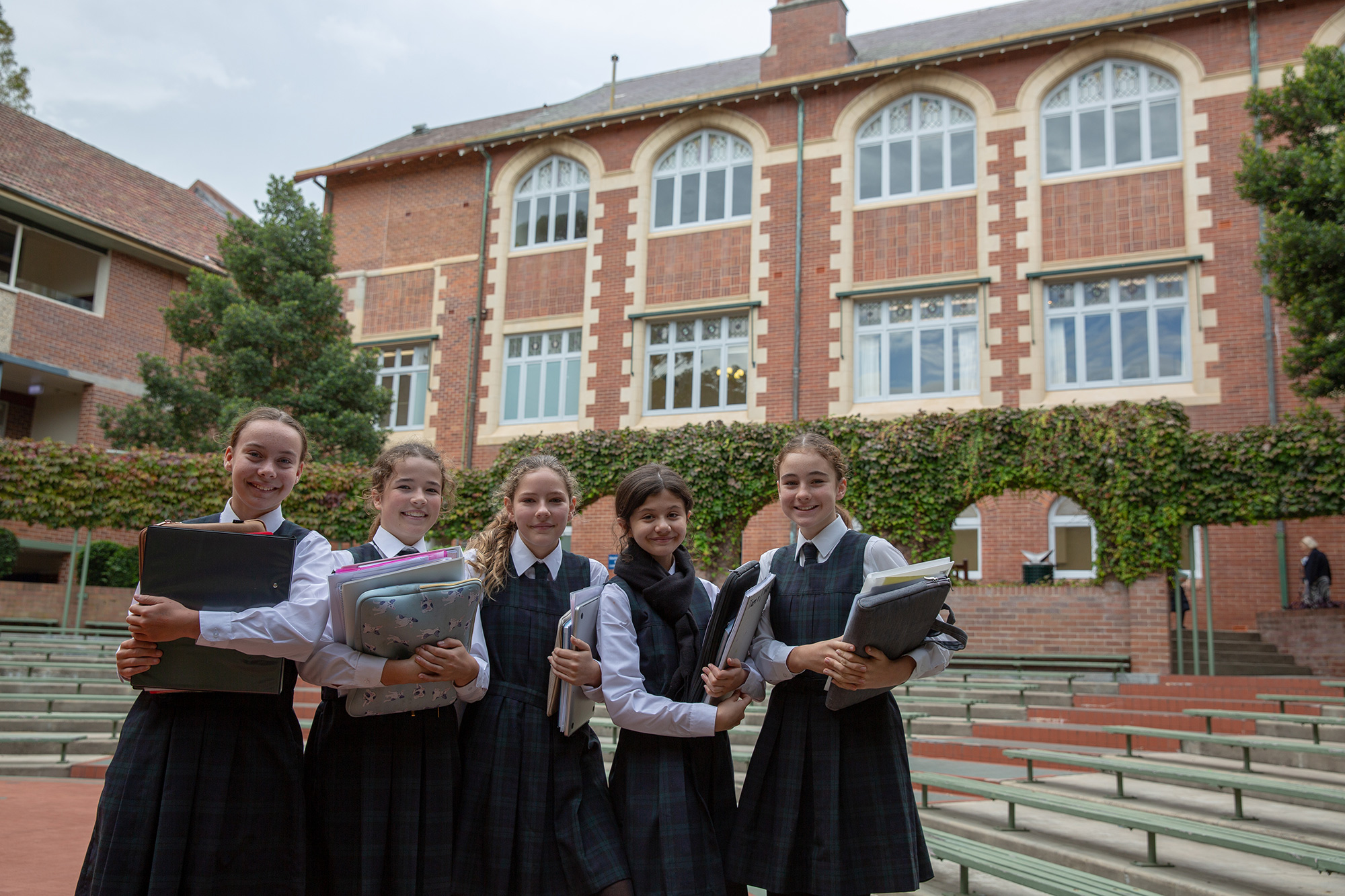 Middle School students are encouraged to engage in intellectual pursuits, to express themselves creatively, to extend themselves physically and to develop their character across many areas and within the social responsibility initiatives available.
Pymble's Middle School provides each girl in Years 7 and 8 with tailored and challenging learning experiences while nurturing their abilities and interests in a caring and supportive community. Through our comprehensive academic, co-curricular and mind-body-spirit program, every each one of our girls has support for her intellectual, emotional, social, physical and spiritual growth during these formative years.
Our Middle School program focuses deliberately on mastering subject specific skills and deepening knowledge, while developing competency in communication, collaboration, critical thinking, problem solving and creativity. Learning is designed to be social, learner-centred and perspective-rich so girls are challenged enough to grow while confident enough to become independent, try new approaches and flourish.
From inter-school academic competitions such as the da Vinci Challenge, to the classical Hypatia program in Greek language and culture and Euclidean geometry, to our Challenge Café and our Sokratis program, Pymble girls can extend their learning and embrace academic excellence. Meanwhile our Literacy and Learning program underpins our core programs to provide additional support for girls with identified learning needs.
Digital Fluency is a one of the College's four Strategic Pillars. It prepares our students for the future of work and life in a digital world. A Pymble girl's character will develop as they create a rich digital identity, becoming digital citizens who make authentic contributions to their local and global communities.
As she works with her teachers, a Pymble girl develops confidence in her ability to select and use a range of digital tools to organise and analyse information and to collaborate and connect with others. She learns how technology can deepen areas of passion and interest through effective research. Technology provides her the opportunity to think critically to understand problems, gain insights and creatively develop solutions.
At Pymble, our huge range of co-curricular options lets girls learn new team or individual sports, join social or competitive sport – and provides pathways for our elite sportswomen to strive and excel. Our coaches are among the best in the industry and our world-class sporting facilities include an indoor aquatic centre for swimming, diving and water polo, a fully equipped gymnastics centre, synthetic hockey field and multipurpose courts and ovals.
Girls at Pymble have many opportunities in the Performing Arts. Our diverse and high-quality dance program crosses a range of styles and levels, from Jazz, Lyrical and Contemporary, to the Royal Academy of Dance (RAD) Ballet Stream. Drama options include stagecraft and dramatic performance skills from Theatresports, to filmmaking skills. And in our Language Arts, girls access skilled mentors as they join programs and competitions in Debating, Public Speaking and Mock Law.
Pymble has a long tradition of excellence in music and offers an array of bands, choirs, orchestras and ensembles for students to join, as well as private music tuition.
In both Year 7 and 8, students will participate in an Outdoor Education program which offers them the opportunity to experience individual challenge through a range of adventurous activities. Through these programs, girls learn to take positive risks and develop outdoor skills in a natural environment requiring initiative, resilience and an awareness of others.
Year 7 will have the opportunity to visit Pymble's new Vision Valley campus at Arcadia, which is set on 90 acres of land bordering the Berowra Valley National Park. Year 8 will visit locations in Killalea State Park, on the Illawara Coast, or on the Colo River, 90 minutes north-west of Pymble.
During their Outdoor Education programs, girls will take part in a varied range of exciting and challenging activities to support their physical, emotional, spiritual and intellectual growth.
Pymble's Middle School Mind-Body-Spirit program guides each student to achieve her individual potential and develop self-worth. From Year 7, each student is allocated to a Compass group of around 16 students who progress through to Year 12 together with their in a safe and welcoming environment. A Compass teacher is also appointed to each Compass Group who will accompany the girls throughout their journey to Year 12.
Our Mind-Body-Spirit program promotes growth in spiritual, emotional, physical, social and intellectual realms. Trust and mutual respect are fostered, minds are challenged, and body and spirit are nurtured. Girls learn to recognise and establish protective strategies for their wellbeing, while building resilience, problem solving skills, and develop positive relationships with staff and peers.
Pymble's Middle School Student Leadership program encourages girls in each class to take up leadership roles, which range from Student Representative Council, to House Liaison, Compass Captains, Chapel Leaders, Transition Leaders, Sustainability Leaders and Middle School Leaders, new student buddies and tour guides. Through Service Learning, students are connected purposefully with the world, becoming active and informed citizens through community service, sustainability initiatives and charity experiences.
Video walk through our middle school
Sophie and Emilia will take you on a tour of the Middle School and share with you why they're proud to be Pymble girls.