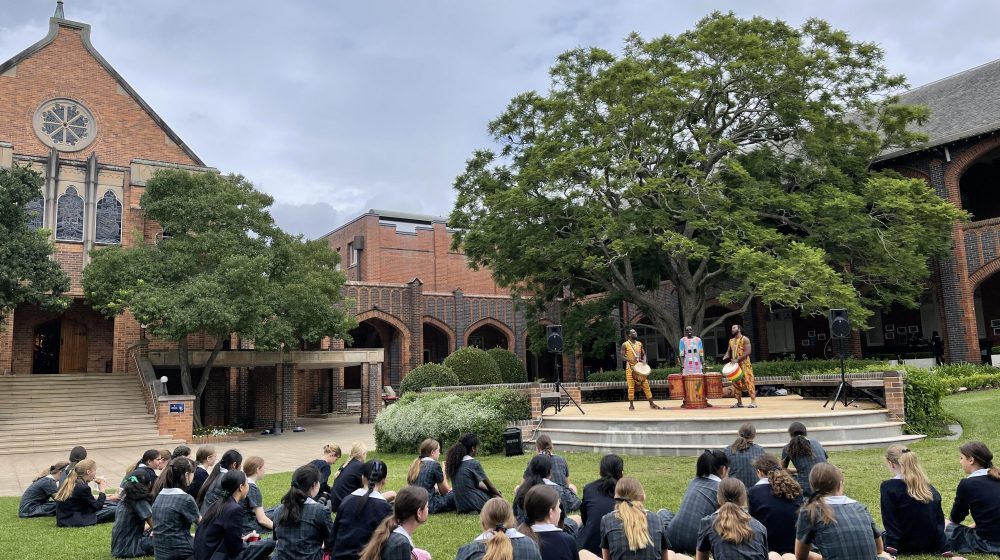 Literature Diversity Festival Shows we all have Stories to Share
Our campus was filled with the sound of spectators cheering on a variety of performers throughout Week 8, including an indigenous dancer, the current Australian Slam Poetry Champion, an African drumming and dance trio, an ex-student who is also a vlogger and our own EAL/D Support Services teacher, Mrs Venkat, who also happens to be an acclaimed Bharathanatyam dancer.
Organised by Ms Nadia Merchant and our Conde Library team, our week-long Literature Diversity Festival was a wonderful celebration of storytelling across cultures, with bespoke programs of classroom activities and lunchtime events created for the Preparatory, Junior and Secondary Schools.
Sitting firmly under our learning pillar around social intelligence, the festival provided unique and engaging opportunities for all our girls to connect with others, learn more about different cultures and foster an understanding that we all have stories to share and that we are all enriched by being members of a diverse community.
Our Intercultural Connections Captain, Katherine, shares her reflections of the week:
"This week, my fellow Intercultural Connections Captain, Claudia, and I had the amazing opportunity to be a part of the Literature Diversity Festival, meeting different guests every day, and watching and listening as they shared their stories with us. On Monday, Kerry Johnson, a proud Wiradjuri woman, performed six traditional dances that told a story about her people. "You won't be able to understand if I just tell you – you have to experience it for yourself, you have to feel it," she explained, as the girls joined in to learn the dance of the dyirridyirri (willie wagtail) bird. 

"On Tuesday, Lucky Lartey explored a rich history of traditional African drumming, dance and song, teaching us the words and moves, step by step. On Wednesday, we learned about slam poetry through an interesting apocalyptic-love poem about doves performed by the current Australian Slam Poetry Champion Phil Wilcox, and today our very own Mrs Venkat and her dance troupe performed for the girls.
"These performances have all been interspersed with small workshops for specific year groups or elective students, as well as different activities around the school. How better to celebrate our already diverse community than to expose the girls to so many different cultures and ways of expressing their stories and experiences!"