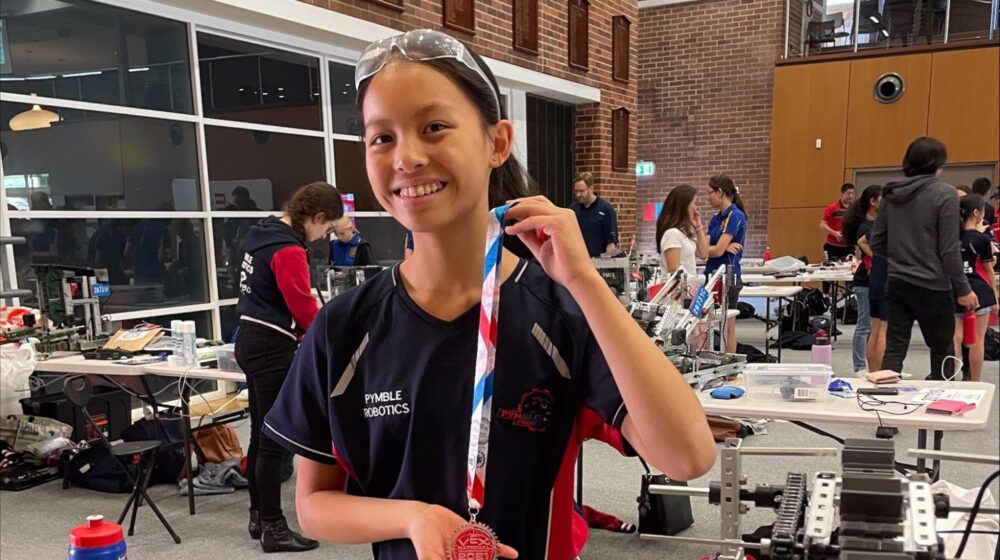 Robotics Teams Quality For Worlds
Our Robotics program continues to go from strength to strength, with three teams emerging from the NSW VRC State Championships having qualified for Worlds. One of our four teams – TechTeacups – was in the alliance that went on to become Tournament Champions and all four Pymble teams won awards for excellence, innovation, engineering and problem solving. We were delighted that our amazing staff member Thina won Mentor of the Year!
VEX IQ State Championships
VEX IQ and VRC State Championships took place at the end of Term 1 with direct qualifications to Worlds Online in May. Congratulations to the Junior and Middle School Teams for competing at the highest National level. Tech Teacups (Sabrina Rolinek, Amelie Muir and Isabelle Huang Year 9) won the most prestigious award, the Excellence Award, were Tournament Champions of the VRC competition and qualified for Worlds in May.
Our Juniors competed in their first tournament, VEX IQ on Wednesday 24 March. Pymble Puffins (Ruhani Surana and Anna Le, Year 7) won the Design Award and Pymble Cereal Eaters (Amelia Carlan, Nicole Zhang, Olivia Moon, Audrey Lin and Rena Liu, Year 6) won second place in Skills and the Amaze Award.
The Junior girls showed true flexibility as they negotiated the stress of their first tournament, where time between matches is tight and the pressure to not let your alliance teams down is high. The aim this year was for robots to stack towers in columns of three and create tic-tac-toe style rows of these columns. A special mention must go to Amelia Carlan, Year 6, for her programming skills for Cereal Eaters, being one of only two teams that could stack risers using code only. Their drivers, Nicole Zhang and Audrey Lin, Year 6, showcased their impressive skills in driving, finishing second in the team matches and in driver skills, which placed the team as the second highest ranked school team in Australia.
TBD team (Matilda Ma-Conis and Penelope Danziger, Year 7) battled with technical issues, but showed amazing resilience managing under pressure to repair their robot for the finals. Pymble Puffins finished an impressive second in the rankings.
VRC State Championships
On Saturday 27 March, Middle School girls competed in the VRC State Championships and won a host of awards. Piratz team (Olivia Clifford, Vanessa Liu, Chloe Kim, Chelsea Shi and Zara Dimovski, Year 9) performed admirably and finished skills in second place. Nonetheless, this amazing team made the finals with Wooden Horse (Ang-Ya Koo, Amy Zhang and Sophia Chang, Year 8) losing to the winning Alliance of a Pymble team, Tech Teacups and a Barker team.
The overall integrity of Pymble's robots was a testament to the engineering skills of the girls and resulted in the Tech Teacups winning the Excellence Award, Wooden Horse the Judges Award, Piratz the Think Award and The Golden Apples (Ariana Bansal, Rae Liu, Maya Garg, Rachel Moon, Teresa Sun and Annie Luo, Year 8) the Innovate Award.
Thank you to Dr Hadwen, Mr England and Mr Shu for their support. Thank you to our mentors for their endless commitment to the girls; Cristhina Boni-Lavratti, Asaph Mross-Becker, Juliette Singer Napton, Penelope Blake, Hanan Hassan and Jennifer Zhou. Our mentors won Teacher of the Year for both competitions.