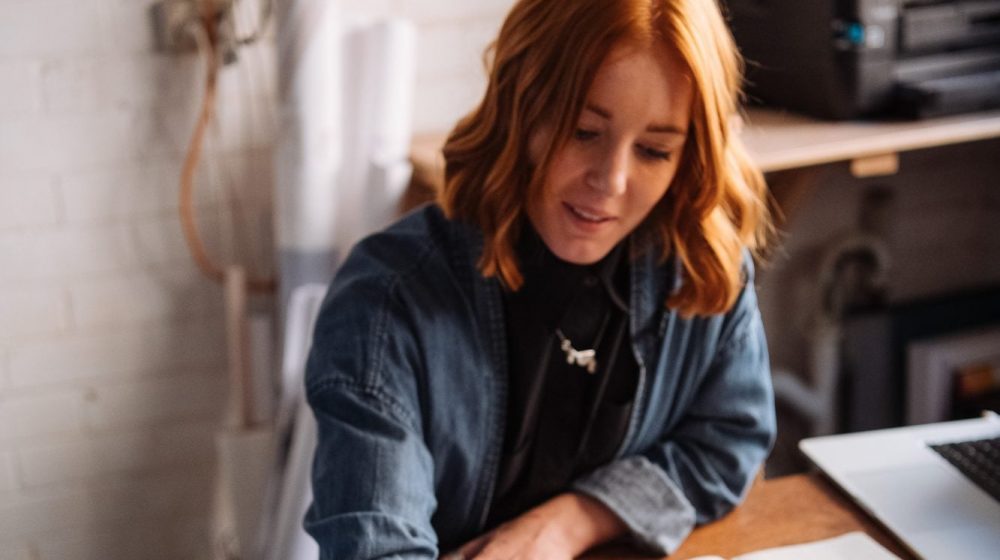 Where are they now? Zara Pasfield (2013)
As students, we navigate our time in school trying to figure out what we will do as adults and what path we will take. For some of us that path is clear from a very young age, but for a lot of young students it is an ever-changing journey. My time in Pymble has taken me through a career as a young Figure Skater representing my school and Australia, to studies in architecture and design, to finally becoming an entrepreneur and starting my own business in public art and sculpture. Rather than a straight line, I had to find my path and figure out what I wanted to do in life, and what I found was not just a career but a passion.
From day one, as a five-year-old red-head running through the riverbed (2000), until my last day, as a teary eyed eighteen year old walking down Grey House walk for the last time (2013), there was never any place more supportive than Pymble. Throughout the Junior School, Middle School and Senior School I trained as a competitive Figure Skater, competing and training on competitions around the world. This meant that my absence during several weeks per semester was a recurring occurrence. With the determined support of my wonderful teachers, I never felt left behind or overwhelmed. This unique learning pattern meant that I was taught time management and responsibility from a very young age. My exposure to the Figure Skating scene taught me hard work, and resilience, both traits which I had to tap-in later on.
My teachers' ongoing support is something that has stayed with me well into life after Pymble and influenced my determination to start my own business. In my senior years I studied nothing short of an eclectic combination of subjects including Ancient History, Environmental Science and Textiles – all of which I adored and all of which I would still call hobbies to this day.
Much to my parents despair I chose to pursue the one area of study that, according to my HSC results, I did not show an aptitude for: Design. Studying textiles at Pymble did however give me the insight and the basic skills needed to convince me that I really wanted a career in design. I enrolled and completed my degree in Spatial Architecture at the University of Technology Sydney (UTS) with the intention of becoming a set designer.
Finding the right people to talk to or finding the path to what you want to do is not always clear. I did not know anybody in the set design industry or in any related industry so I started by trying to find some experience through internships. During this time, I took on a part-time internship at what is today one of Australia biggest production companies, Mandylights Australia.
This internship turned out to be one of the most valuable opportunities that has crossed my path, as it showed me the never-ending ways that my design skills could be utilised across a plethora of mediums and visual platforms.
After finishing my studies in Spatial Architecture, I embarked on a solo trip gallery hopping through Europe, returning home full of motivation and eager to try my own hand in the real world. I started working as a designer in my dream job (creating art light sculptures for festivals and events) and was offered a well-paid full time position. Turning down that offer was a hard thing to do, but something told me that I needed to try it on my own, and take the plunge as an independent artist. I started my first business, Pineapple Design Studio, in 2017.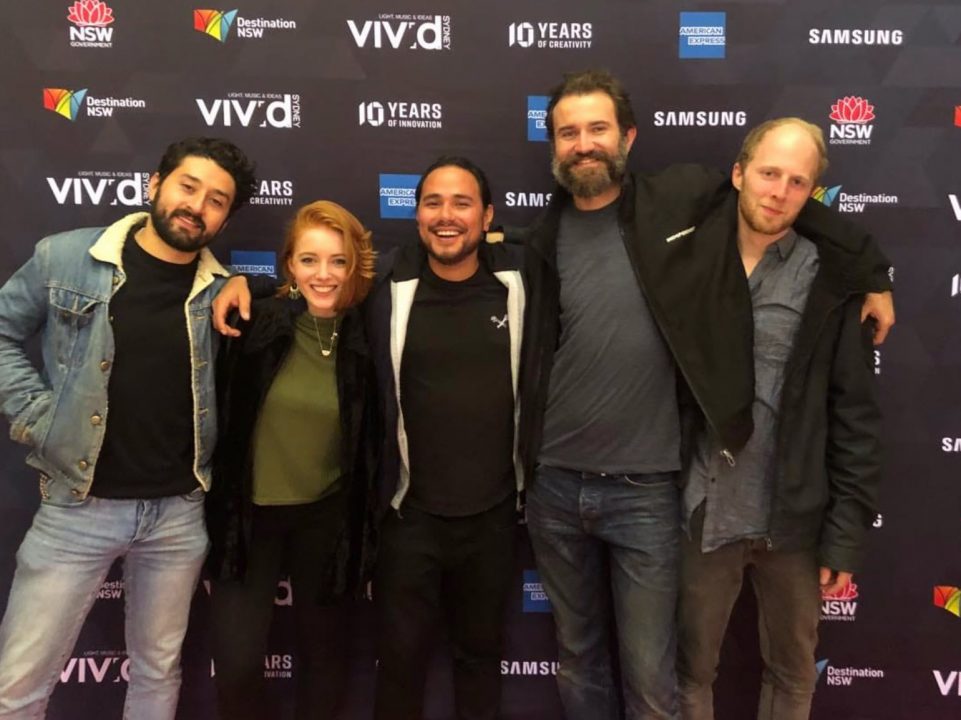 At Pineapple Design studio we create temporary public artworks and transient urban interventions. In the past 4 years I have been lucky enough to exhibit my work in Beijing, Berlin, Toronto, Bucharest, Croatia and New Zealand as well as domestically here in Australia. I also had the privilege to install permanent artworks in Lower Hutt Library, New Zealand and Queenstown Central, Queenstown. This has been an invaluable experience as I have been able to travel with my work to different places and experience a range of festivals and audiences across continents.
For the last three years I have been invited as a guest presenter as part of SHAPE EXPO at the Museum of Applied Arts and Sciences at the Power House Museum in Sydney. In 2019 I was invited to speak on multiple panels as part of the inaugural Vivid Schools as well as Vivid Ideas, Chatswood. I met my colleague and partner, Renzo B. Larriviere, a talented Peruvian artist creating incredible work here in Sydney. We quickly moved into a shared warehouse and studio space in Marrickville and have been collaborating ever since.
December of 2020 saw us formalise our collaboration in the formation of Atelier Sisu. (The pandemic was obviously a great time to start a company within the entertainment industry…)
Since the formation of Atelier Sisu we have been awarded First Prize in the Architectural category of the INDEF Design Awards, Korea and an Honourable Mention Award in the 2020 Loop Design Awards for our artwork, Evanescent. 2021 will see the realisation of our most exciting artwork to date.
Working closely with Vivid Sydney's light curator, Lucy Keeler, we will be realising Ephemeral on Darling Harbour as part of Vivid Sydney 2021. Comprised of over 200 floating bubble-like spheres scattered across the harbour, some reaching over two storeys high and the width of a bus. The work focuses on the intersection of art and architecture, 'art-chitecture.' Incorporating a soundscape by composer, Joseph Burgess, the work will transform from an ethereal, iridescent bubble scape during the day to a dynamic and vibrant other-worldly experience during the night time hours.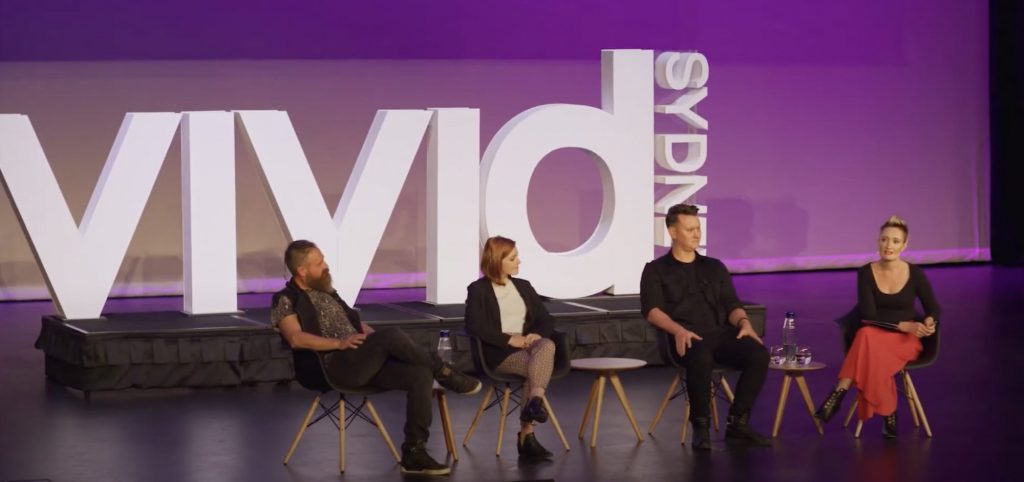 This work will include a floating walkway from Cockle Bay Wharf to Harbourside, allowing the audience to immerse themselves fully within the artwork.
Despite the rapidly fluctuating and uncertain world we are currently living through (particularly in the world of entertainment!) I am excited to continue to build our team at Atelier Sisu and expand our portfolio in the production of large scale, immersive artworks.
There is not really a straight line that I can see for a career in public art. So far I have needed to drive scissor lifts, boom lifts and trucks, I've had to install artworks in the middle of the night at the top of scaffolding, I've had to wire lights in the rain, I've had to get used to the idea that I'll probably be the only woman on site and hold my ground because of it. It is hard work and the hours and commitment of running your own business whist creating art at the same time can be tolling. But few jobs out there let you come up with an idea, a scribble or sketch on a piece of paper, and then see it come to fruition in the middle of the city and allow you to share it with the public. It is a very rewarding experience.
The show must go on, and Pymble has prepared me with the integrity and tenacity to tackle it all. I love my job, because it is not a job, it is a passion and a calling; and would not change it for the world.