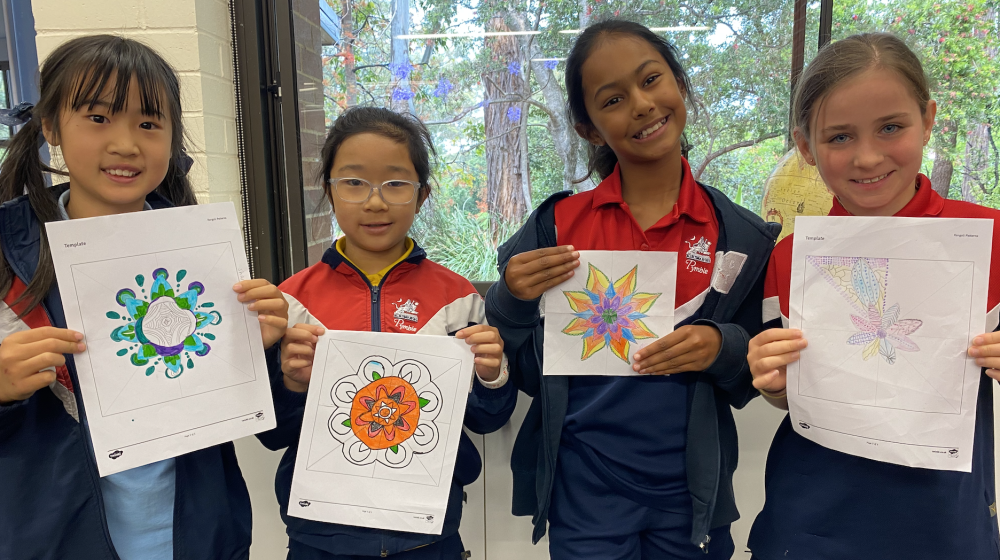 Shubh Diwali from the Junior School
Diwali is such a special celebration for more than one billion people around the world and more than one million people living in Australia. It was so exciting to be able to celebrate the Hindu New Year, the 'Festival of Light' earlier this month in the Junior School.
In Year 4, students linked their learning about rotational symmetry in Mathematics to this joyful festival by creating colourful Rangoli designs. Here, the students share how they celebrated Diwali both at school and at home.
"By celebrating Diwali at school, I felt like my culture was being acknowledged, and I really enjoyed sharing my traditions with the class and teaching them about our clothes and food that we eat during this time of celebration. Making Rangoli and painting rocks was very enjoyable while also celebrating Diwali. We also taught the rest of the students about the different symbols and traditions that we participate in on the day." – Anika
"I felt really happy that our class decided to celebrate Diwali, it was so meaningful to us. Over the two days we watched videos, made Rangoli patterns on paper to show rotational symmetry and completed Rangoli rock panting, listened to Squiz Kids podcast and played a Kahootz. I was happy that we celebrated with my classmates. They told me they all learned something new about my culture. This made me feel so proud!" – Haneesha
"My family and I celebrate Diwali by lighting Dias and making shapes out of firecrackers. We start the evening by making Rangoli on our doorstep. We then have a bath. We put on a golden liquid before we have a bath to make us shine like a light. Finally, we dip our feet in red liquid and walk across the hallway. That is how we end the day and start getting ready for the big party and celebration that comes next." – Aaliyah
"Diwali is the Festival of Lights and is celebrated in India, with new clothes and temple services early in the morning. Diwali is also celebrated by giving delicious food to family and friends. And then early evening, there are beautifully sprinkled Rangoli patterns at the front of your apartment or house with coloured footprints all through the living spaces. Then you might have a firework show to celebrate the new year and have the goddess Lakshmi to come to your house, using light and bright colours to guide her. This is why Diwali is called the Festival of Lights, and is also in the New Year." – Eloise