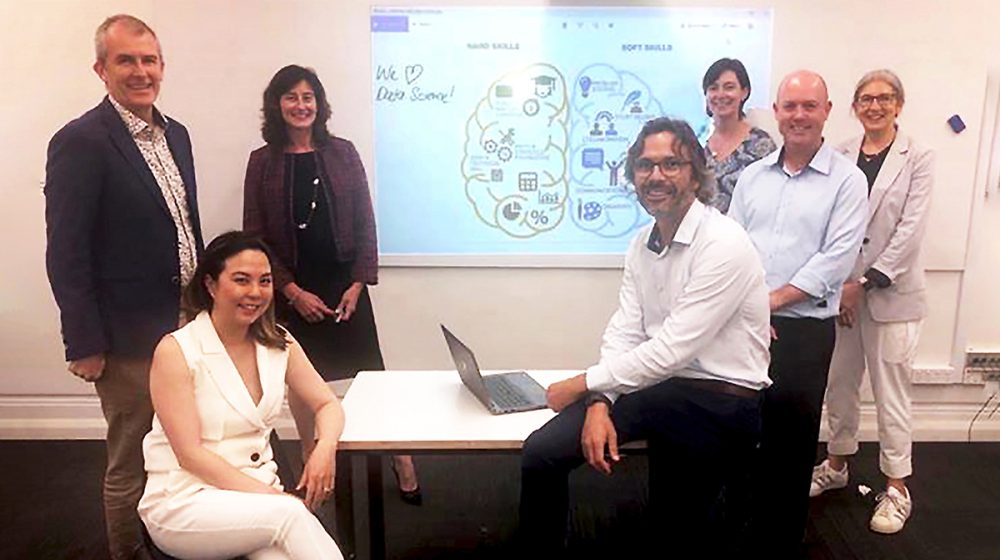 Pymble leads the way with introduction of new Data Science course
In 2022, Pymble will be the first school in Australia to partner with the University of California, Los Angeles (UCLA) to offer the Introduction to Data Science Curriculum as an elective for students in Years 9, 10 and 11.
Five classes of students will join a group of outstanding educators, led by our Learning Leader Assessment and Differentiation and Science Teacher, Cedric Le Bescont to introduce the courses. Our Deputy Principal – Academic (K-12), Justin Raymond, Director of Innovative Learning Technologies and Student Leaders, Anthony England, Head of Learning Space Area – Science, Dr Kristie Spence, Mathematics Teacher, Katie Jackson, Science Teacher, Glen McCarthy and Director of Projects – Learning and Growth, Kim Maksimovic have been meeting regularly to share ideas and prepare for the UCLA team to arrive at Pymble in the last week of this term to run a week of training ahead of
implementation.
Why are we taking this bold step into the Data Science space? As an independent school, we are always looking to respond to the changing needs of a modern education to ensure we are equipping our students with the skills to create a more inclusive, cohesive and productive world.
The introduction of Data Science at Pymble supports the College's intent to develop graduates who can amplify their impact on the world through better understanding and utilising digital intelligence.
As our Project Director, Cedric Le Bescont reflects: "Today, we face a deluge of data that is challenging our capacity to make sense of the world. It is important, in my view, that students learn and apply the scientific method to big data sets so they can face the complexity of our world with confidence."
Earlier this year, we celebrated International Day of the Girl. This year's theme – 'Digital generation. Our generation.' – shines a light on the need for equal access to the internet and digital devices for all girls and focuses on opportunities that enable girls to safely and meaningfully access, use, lead and design technology. Girls are smart and innovative, and we are dedicated to breaking down barriers and long-standing stereotypes that continue to keep
girls from entering careers in STEM.
Our new course in Data Science will make sure our girls are part of the important process of driving good and growth around the world in technology related fields, because we know our girls are leaders and change-makers.