Stories Shared
These videos featuring stories from members of the Pymble community, both past and present was released throughout 2015 in the lead up to our Centenary Celebrations in 2016.
Three generations
Memories and thoughts of three generations of Pymble students from the Knox family: Barbara Knox (1947), her daughter Catherine Knox (1977) and granddaughter, current Year 8 student Imogen Roach.
---
Uniforms
A celebration of College uniforms since 1916 featuring Joy England, Alumni Relations Manager and ex-students Margaret Coleman OAM (1945) and Philippa Graham (Myers, 1969) reminiscing about their old school uniforms.
---
Celebrating sport at Pymble
This video is a celebration of Sport at Pymble and features reflections from ex-students Bertie Lloyd (1926), Ellyse Perry (2008), Danielle Scott (2007) and Director of Sport and Activities, Cameron Anderson (2004 – 2019).
---
Mrs Sabina Turner
Mrs Sabina Turner (Scales, 1973), Director of Co-Curricular Performing Arts at Pymble reflects on her years at the College as a student in the 1970s and later as a teacher.
---
Mrs Kate Fredericks
Mrs Katharine Fredericks (Ferguson, 1964) attended the College during the 1950s and early 1960s.
Her connection with Pymble dates back to 1916 when her great grandfather Rev John Ferguson was the first Chairman of the College Council. Kate's father, George Ferguson followed in her great grandfather's footsteps as a College Council member from 1957. He held the role of Chairman from 1961 before stepping down in 1974.
Kate's three daughters and several nieces all attended Pymble, making her connection with the College from 1916 to 1999 a total of 83 years.
---
Miss Bertie Lloyd (1928) 1912-2017
Bertie Cecil Lloyd was born in Manly 14 November 1912. Her early schooling was at the Hillview College, which later closed.
After the family moved to Gordon, Bertie Lloyd attended Presbyterian Ladies' College at Pymble during its first decade, leaving in 1928 due to illness. Bertie's sister Gwenyth also attended the College, leaving in 1934, and her great-great niece is a current student at Pymble. Bertie became a close friend of former student Dame Joan Hammond, with whom she corresponded over Dame Joan's lifetime.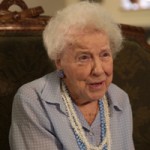 Bertie joined the Voluntary Aid Detachment (VAD) and worked at Lady Gowrie Red Cross Convalescent home. In 1939, she enlisted and served at the 12th Australian Camp Hospital located at the old Sydney Showground at Moore Park in Sydney. She was known as Private Bertie Cecil Lloyd NFX 131142, Australian Army Medical Women's Service (AAMWS).
After Bertie was discharged, she continued her work with the VAD for a decade, nursing returned servicemen. Her narrative of her life and war service prove enthralling listening and was recorded in 2004 for the Australians at War Film Archive, University of New South Wales.
Bertie describes caring for her family and working post-war in nursing homes, a ski shop, in cosmetics for Lancôme and Estée Lauder, and in antique shops. She was still working in a Gordon antique shop into her 90s. In later life, Bertie lived at the Lady Gowrie Retirement Village in Gordon.
Bertie was Pymble's oldest living ex-student and guest of honour for the opening of the Centenary Sports Precinct in 2016. In April 2017, she was honoured with a plaque for the Centenary Sports Precinct.
Bertie is quoted in the Centenary book, Pymble Ladies' College 100 Years ­– 1916 to 2016.
"We were proud of everything we did at PLC. We were taught to respect our parents, our teachers and to love our school. I am proud to be a Pymble girl."
Bertie was just shy of her 105th birthday when she passed away and she will always be remembered as a treasured member of the Pymble community.